UNIABUJA Lecturers Begin Indefinite Strike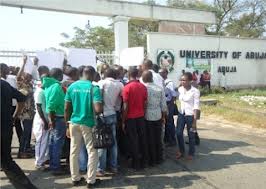 The Academic Staff Union of Universities in the University of Abuja has begun an indefinite strike to draw attention to developments in the institution.
The Chairman of the branch, Mr. Ben Ugheoke, announced this to journalists in Abuja.
According to the News Agency of Nigeria, lecturers of the university took the decision in a congress on Monday.
Ugheoke said the Federal Government on July 16, 2012 constituted a visitation panel to resolve issues affecting the institution but regretted that till date, the White Paper had not been released.
He alleged that facts available to the union showed that funds allocated to the institution were being misappropriated.
He equally accused the Vice-Chancellor, Prof James Adelabu, of abuse of power.
Ugheoke also alleged that Adelabu deliberately refused to pay their teaching, marking, supervision and professional allowances dating back to 2010.
The VC, he added, refused to check off their dues.
He said, "The vice-chancellor in April 2013 checked off our dues as it is mandated by the Trade Union Act and some levies but the fund had yet to be remitted to the union's account.
"He later stopped the check off dues from May 2013, claiming that there was a circular to that effect.
According to him, the VC did that because he wants to cripple the union.
"We feel that the White Paper should be released so that the university, through its council, will effectively implement its recommendations immediately because many issues are contained in it," the chairman said.