Nigerian Police Launch Counter-Terrorism Campaign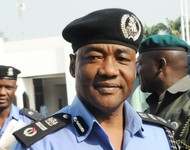 As part of the strategies lined up in the ongoing war against terrorism, the Nigeria Police have today, 2nd June, 2014 commenced an extensive counter-terrorism campaign nationwide.
Frank Mba, Police Public Relations Officer said the campaign which will witness massive distribution of information, education and communication (IEC) materials across all strata of the Nigerian society, is expected to be sustained until every citizen of Nigeria is well informed of their responsibilities in this age of terrorism.
Statement reads, "The public enlightenment materials, which are factsheets containing distress call numbers of the Police, the Department of State Services (DSS) and that of the office of the National Security Adviser (NSA), are carefully designed by the Police to educate the general public on their basic roles in the fight against terrorism and how to identify terrorists' subterfuge and other known modus operandi of criminals. "
This is expected to help in protecting citizens from falling victim to crime, thereby improving overall sense of communal safety. Meanwhile, the factsheets have been translated into major Nigerian languages for wider reach.
Consequently, the Inspector-General of Police, IGP MD Abubakar CFR, NPM, mni, psc, has called on the citizenry to partner with the Force and support it in the ongoing Counter-terrorism Enlightenment Campaign (CEC). The IGP further urges the citizens to pay rapt attention to the security and safety tips contained in the counter-terrorism leaflets being circulated by the Force.
Reiterating the commitment of the Police and other security agencies to winning the war against terror, the IGP enjoins the general public to insist on frustrating every step of the terrorist by remaining vigilant all the time.
He further thanked Nigerians for their patience and resilience in the present circumstance, adding that such challenge can only strengthen our collective resolve to preserve the peace of our land.