Babatunde Fashola Rejects Religious Consideration For Next Lagos State Governor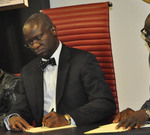 The Lagos State Governor, Mr. Babatunde Fashola (SAN), Monday strongly decried the notion by some religious leaders and groups in the state that his successor should be a Christian in order to balance political equation.
The Pentecostal Fellowship of Nigeria  has consistently demanded a Christian governor for the state as all the governors that have governed the state have so far been Muslims.
The governor at an inter-faith conference theme: 'Peace, Religious Harmony and Good Governance: Issues and Challenges', the governor used the opportunity to express his disappointment at the continuos clamor for religion.
The clamor has however led to the choice of a Christian candidate, Akinwumi Ambode of the All Progressives Congress, who is said to have the blessings of Bola Tinubu, a chieftain of the party and not too long the Oba of Lagos.
But Governor Fahola who is not pleased with religion as panacea for a candidates emergence, warned religious bodies across the state "to take better control of our pulpit and be more restrained in what comes from there," saying religion should not be a consideration for politics or election.
At the conference attended by Christian and Muslim clerics, the governor said he could not remember the last time the governor of the state was elected based on his religious belief, or if it had ever happened.
He rhetorically asked: "What will the preference for a governor of one faith over the other benefit us? Will it give one religion what the other faith cannot use? Will it give them to schools that children from the other faith will not be able to use?
"Or will it bring water that only one faith can drink? Will it bring a clear line between poverty and the faith? Does hunger know faith? I have said it before, where is the Muslim and Christian water. Maybe, we should begin to separate that so that we can have Christian and Muslim money.
"In the blood bank, when life is threatened, do we have Muslim and Christian blood; because the person who is fighting for survival is not interested in who is treating him, all he is interested is how he can get well quickly.
"Insecurity does not discriminate. It does not state the faith it wants. It is just an indiscriminate attack. The location where the impact is felt may sometimes be a coincidence of whom and who may be there."
According to the governor, the people who said they want one particular governor or that there should be one particular governor, "are they still conscious that it is an election where a choice has to be made? If there are two democrats, they must expect that people must have a say."
He also asked the question from those who insisted on what should happen, wondering whether they really "believe in God? It is only God who can say. I wonder when I heard those things. You can insist, but can you boast that you will be alive in the next one hour.
He observed that he knew things "can rob off badly. You may be on the wrong side of the government policy, but we must trust ourselves. We have integrated more than 50 years ago to begin to toy with what we are doing at the moment.
"The danger is too much. This cloth will not tear in one straight line; it will tear in shreds if we pull it too far. Let us restrain the pull on the cloth. It is no longer a new cloth; it is a well worn one. When a well worn cloth tears, it can't be repaired well.
"Good governance means different things to us. It may mean that there are more religions institution of one faith than the other in the state; which may sound as good governance for some people. But is that possible in a democratic system?
"Is that possible in the country today; a country where parents of some of our religious leaders belong to the other religion who were raised by their parents' religion? There must be a mutual respect for everybody. For the majority, good governance is just food.
"It has to do with the ability to get a job and provision of social amenities. For some, the faith of the governor is never their problem. We must control the messages that come out of the pulpit," the governor stated.