"Attack On Sabon Gari Is An Attack On Nigeria" Kwankwaso Condemns Kano Bombing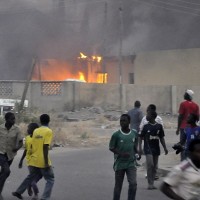 NAN
Gov. Rabi'u Kwankwaso of Kano State on Monday condemned the bomb attack on Gold Coast Road, Sabon Gari, Kano, on Sunday.
He expressed his feelings during a sympathy visit to the people of the area, noting that many were affected in the attack.
"Attack on Sabon Gari is an attack on Nigeria. Sabon Gari accommodates different ethnic groups from many parts of the country'', he said.
Kwankwaso described the incident as an act of criminality meant to kill innocent people without a just course.
He said the State Government would continue to work with security agencies to bring an end to the attacks.
The governor also said that the state government would take care of the medical bills of the injured persons currently on admission at hospitals in Kano.
The governor called on the people of the state to cooperate with security agencies to check the excesses of criminals in the society.
He condoled with the families of the deceased and prayed for the quick recovery of those injured.