14-Year-Old Bride, Wasila Umar, Explains Why She Poisoned Her Groom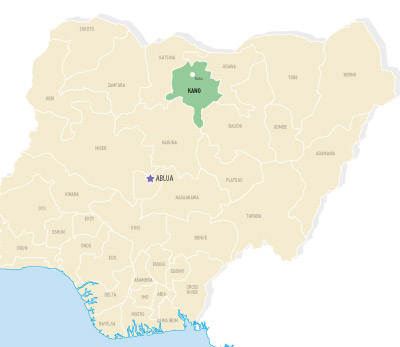 Estimated Reading Time: <1
A 14-year-old bride, Wasila Umar, who allegedly killed her 35-year-old groom, Umar Sani and three other persons in Yansoro Kademi village of Gaya local government area of Kano state, explains why she smeared rat poison on her groom's food.
At the Kano State police headquarters, Bompai, Wasila told Weekly Trust how it happened.
"When my father told me that I should marry Umar Sani, I told him I don't love the man but he refused. Before our marriage I told him again, he beat me up and said I must marry him. So after our wedding I started thinking of what to do and the idea of rat poison came to me. I went to the village market and bought it for N80, returned home and hid it. When our husband's food was served in the sitting room, I went there and spread the poison over it," she said, explaining that it was not meant for the other 13 others who were just victims of circumstance.
"I did not mean to kill my husband, but rather wanted to show him that I have no feelings for him. I thought after eating it, he will divorce me and I will return to my father's house," she concluded
Her late husband ate the poisoned dinner with three others, they all died. It was learnt that while the husband and two others died less than an hour after eating the food, the fourth, a girl who also ate, died at Gaya General Hospital the very next day. However, ten out of the 14 persons that ate from the poisoned food survived.
Wasila got married to Late Umar Sani who was a trader based in Gaya, two weeks ago.
Before his marriage to Waslia, late Sani had a wife and two children. In the tradition of the Yansoro Kademi people, a newly wedded wife is not allowed to cook for a month, an aspect a senior wife takes care of during the period.
"It was during this period that the first wife cooked a local dish, 'Dan-Wake', and served it to the husband," a neighbor said. He further added that while the husband was in his room, the new wife sneaked into the sitting room and smeared rat poison on the food.
It was also revealed that, when the groom came in, he took the food outside, was joined by 13 others and after eating the meal, they started complaining of severe stomach pain.
"As villagers we don't usually like eating alone, therefore he brought out the food and ate with his neighbors, then gave the remnants to Nasiru Muhammad who is an Almajiri and also a local spaghetti hawker, Hindatu Ibrahim, aged 13.
"Within a very short period, the husband and two others died. The young girl was rushed to Gaya general hospital where she later died," he said.
As a result of the sudden death of the trio, the villagers reported the case to Gaya divisional police station and both wives were detained and interrogated, after which the new wife confessed.

Additional Content Credit: WeeklyTrust