"Nigerians Are Very Corrupt People" FG Summons Zimbabwean Envoy Over Mugabe's Remarks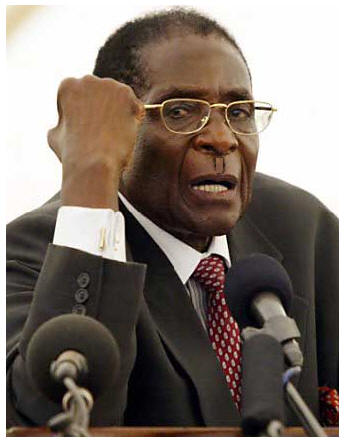 NAN
The Federal Government on Thursday summoned the Zimbabwean Head of Chancery over remarks credited to President Robert Mugabe, which depicted Nigerians as very corrupt people.
The Ministry of Foreign Affairs summoned the Zimbabwean Head of Chancery, Stanley Kunjeku, in Abuja to formally lodge a protest.
The Permanent Secretary in the ministry, Dr Martin Uhomoibhi, described Mugabe's comment as "vitriolic and denigrating on Nigeria and Nigerians''.
"We were very concerned when we read that on the occasion of the 90th birthday of President Mugabe, he took off considerable time to vituperate about Nigeria.
He said Mugabe's comments reflected "what we consider to be a strong aversion of our country, remarks which we consider denigrating and un-statesmanly on Nigeria and Nigerians in general".
"He was reported to have said Nigerians are corrupt people when he hosted service chiefs on his 90th birthday.
"We want to present the strongest protest in that statement; not only does it not reflect the reality in our country, but to come from a sitting president of a brotherly country is most unkind and very dishonourable, '' he said.
Uhomoibhi said the Zimbabwean president's comment was unfortunate, given the role played by Nigeria in the liberation struggle in southern Africa.
He said Nigeria had always stood with Zimbabwe "shoulder to shoulder'' since independence and was one of the first countries to congratulate Mugabe on his re-election.
"At the point sanctions were imposed on your country, Nigeria empathised with Zimbabwe,'' he said.
Later, the permanent secretary told newsmen that Nigeria's reaction to the comment was not belated, given that it had been in the public domain since March 15.
"In our diplomatic parlance, we do not react the way people would want us to react; we have to verify and articulate our position,'' he said.
In his response, Kunjeku said Nigeria's protest would be forwarded to Harare.