Section Of Bayern Munich's Allianz Arena To Be Partially Closed Over Illicit Banners For Manchester United Game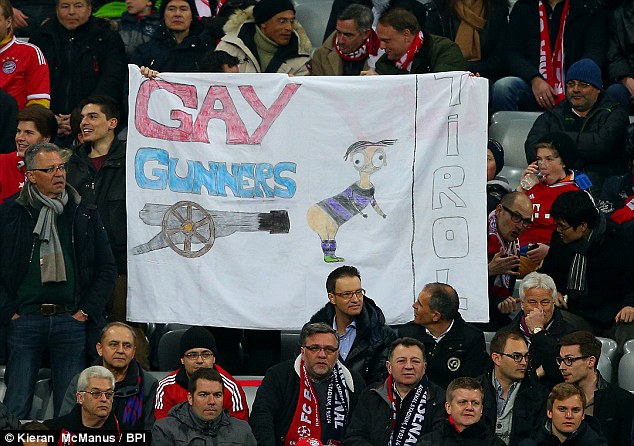 European football governing body, UEFA has ordered that a section of Bayern Munich's Allianz Arena be closed during  Champions League quarter-final second-leg against Manchester United after displaying an illicit banner which referred to Arsenal players as 'Gay Gunners'. A horrible drawing of German midfielder, Mezut Ozil was also sighted on the banner.
Bayern also been slammed a €10,000 for the offence of their supporters in the last-16 home leg against Arsenal on March 11.
"The Uefa Control and Disciplinary Body has decided to order the partial closure of the Allianz Arena," 

"In particular, the closure of sector 124 for Bayern's next Uefa competition home match, namely their Champions League quarter-final second-leg against Manchester United FC on 9 April.

"And to fine the German club €10,000 for the displaying of an illicit banner," an official statement reads.
Bayern has also responded by making a pledge that proper actions will be taken when the culprits are identified. The club insists that they have nothing to do with the unfortunate banners.
"We regret this incident from the Arsenal match deeply and we dissociate heavily from this discriminating banner," 

"Bayern Munich will never accept this. Yet we have to accept Uefa's punishment. We will find the person who caused this and then we will check for the legal possibility on getting compensation from these people," club chief Karl-Heinz Rummenigge said in a statement.