New Vaccine Looks Promising For Deadliest Form Of Cancer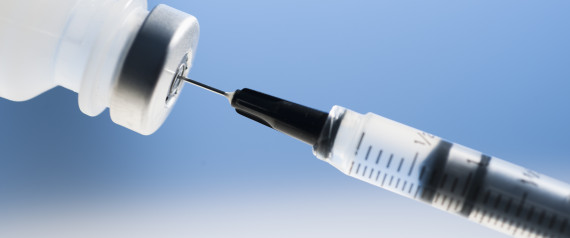 By Bill Berkrot
(Reuters) – An experimental Amgen Inc cancer vaccine used to treat advanced melanoma, the deadliest form of skin cancer, proved effective in a late-stage study in shrinking tumors in a way that suggests the drug triggered the intended systemic immune response, according to data presented on Friday.
The vaccine shrank tumors that were directly injected with the drug and tumors around the body that were not injected, according to the data.
The drug, talimogene laherparepvec, also known as T-vec, is an engineered virus designed to replicate inside the injected tumor, killing cancer cells there, as well as prime the immune system to attack other cancer cells around body.
Dr. Robert Andtbacka, one of the study's lead investigators, in a telephone interview, called the results "very encouraging."
Amgen last year released initial data from the 295-patient Phase III study showing that T-vec succeeded in demonstrating a significant tumor response that lasted at least six months. The latest data analyzed 4,000 tumor lesions to study the response to the drug in injected versus non-injected tumors.
Of the directly injected tumors, 64 percent shrank by at least half, and 47 percent of those had a complete response, meaning the lesion had disappeared, researchers said.
Of the uninjected lesions in the skin or lymph nodes, known as non-visceral tumor lesions, 34 percent shrank by at least half with a complete response seen in 21 percent of those.
"We also want to see responses in distant lesions that are not injected such as in the liver, in the lung and other places," Andtbacka explained.
Of those so-called visceral tumors on solid organs, 15 percent shrank by at least 50 percent, said Andtbacka, who presented the data at the Society of Surgical Oncology Cancer Symposium in Phoenix.
"This indicates to us that we have activation of the immune system to fight these tumors at a distant site," Andtbacka said.
"This is a new generation of oncolytic immunotherapy where you're seeing very robust responses in injected lesions but also robust responses in non-injected lesions. This bodes well for the future for this product," added Andtbacka, an associate professor in the division of surgical oncology at the University of Utah School of Medicine.
Amgen said it expects to have further data in the first half of this year showing whether T-vec ultimately helped patients in the study to live longer. The company has not yet said when it will apply for approval of the medicine.
Andtbacka said he expects the future of the drug will involve its use in combination with other types of cancer immunotherapies, especially in treating patients with non injectable visceral tumors.
Amgen is already testing T-vec in combination with Bristol-Myers Squibb's melanoma drug Yervoy and has agreed to study T-vec in combination with Merck & Co's experimental immunotherapy from a highly promising class called PD-1 inhibitors.
Melanoma is the most aggressive form of skin cancer. About 132,000 melanoma cases occur globally each year, according to World Health Organization.
"We are extremely excited about the data and the potential for combinations with other treatments," said David Chang, Amgen's head of global oncology development.
(Reporting by Bill Berkrot; Editing by Leslie Adler)