16 Killed In Stampede At Nigeria Immigration Job Test Nationwide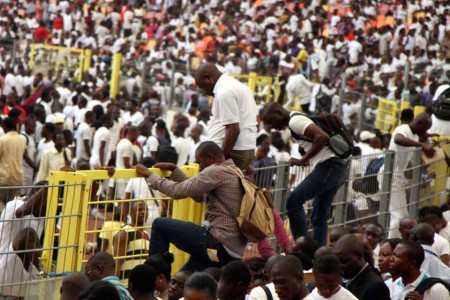 The employment test for recruitment into the Nigerian Immigration Service (NIS) conducted across the country Saturday turned deadly as stampede at three centres claimed the lives of 16 applicants and left scores injured.
Eight people were feared dead during a stampede at the National Stadium Abuja, five lives were lost at the Liberation Stadium, Elekahia, Port Harcourt, while three applicants were also feared dead in Minna.
However, the National Emergency Management Agency (NEMA) confirmed that seven people lost their lives and 40 were injured in the stampede in Abuja.
Meanwhile the Nigeria's Minister of Interior, Mr. Abba Moro yesterday blamed applicants for the deaths that occurred at different venues of the Nigeria Immigration Service (NIS) recruitment test.
Moro said, "The applicants lost their lives due to impatience; they did not follow the laid down procedures spelt out to them before the exercise. Many of them jumped through the fences of affected centres and did not conduct themselves in an orderly manner to make the exercise a smooth one. This caused stampede and made the environment unsecured.
He also stated that the Deputy Comptroller, Immigration Operations and Passport, told him that the test was cancelled in Lagos due to unruly behavior of the applicants.
19 job seekers including 4 pregnant women lost there lives yesterday in different parts of the country during the NIS recruitment test.