U.S. Seizes Largest Ever Embezzlement By Nigerian Dictator, Sani Abacha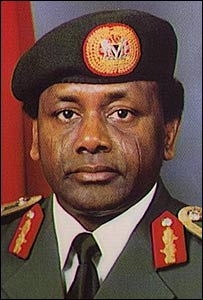 Estimated Reading Time: <1
By Devlin Barrett
The Justice Department is moving to seize more than half a billion dollars of allegedly corrupt proceeds from former Nigerian dictator Sani Abacha and his associates, in what officials called the largest such action in U.S. history.
In a court filing unsealed Wednesday in federal court in Washington, D.C., government lawyers said the U.S. has already frozen more than $458 million in bank accounts around the world, and seeks to recover at least $100 million more.
The seizure is part of a kleptocracy initiative, aimed at recovering money that was looted by dictators from their own countries.
"General Abacha was one of the most notorious kleptocrats in memory, who embezzled billions from the people of Nigeria while millions lived in poverty," said Mythili Raman, head of the Justice Department's criminal division.
The U.S. government has moved to freeze $313 million in accounts in the Bailiwick of Jersey and $145 million in accounts in France. There are also investment portfolios and bank accounts in the United Kingdom worth at least $100 million that the U.S. has targeted, the official said.
Gen. Abacha became president of Nigeria in a military coup in 1993 and ran the country until his death in 1998. U.S. authorities charge that Gen. Abacha, his son Mohammed Sani Abacha, their associate Abubakar Atiku Bagudu and others embezzled or misappropriated billions of dollars from the government of Nigeria and others, and laundered the money by buying bonds backed by the United States using U.S. financial institutions.
Under the Kleptocracy Asset Recovery Initiative, the Justice Department seeks to seize the proceeds of foreign officials' corruption and return the money to the harmed countries.