Fight Against Terrorism, Maku Solicits Public Cooperation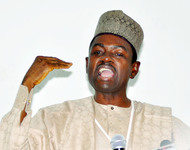 Estimated Reading Time: <1
NAN
The Minister of Information and Supervising Minister of Defence, Mr. Labaran Maku, has called for more cooperation from the public in the fight against terrorism.
Maku made the call in Lagos at the 30th Memorial of the founder of The Punch newspaper, Chief James Aboderin, at the Intercontinental Hotel, Victoria Island on Saturday night.
He said it had been very difficult to curtail the insurgents because they were not a regular army in uniform and that citizens needed to be proactive in order to assist the government to defeat them.
"To defeat insurgency is for every citizen to cooperate. For example, you ought to know the movement of people in your village and if you see suspicious movement you should communicate immediately to security agents.
"If you are in urban area and a stranger comes into your compound, maybe it's a tenant, you need to find out what time he goes out and what time he comes in, who are those visiting him what he does for a living.
"All those questions have become very important today because if you keep quiet and do not cooperate, you will find out that everybody is the enemy of terrorists; nobody is immune.
"So, it is important for State Governments particularly to coordinate public information gathering.
"I believe for any state government to be able to help the Federal Government deal with terrorism, that state must be able to organise its people at the village, ward, district and town levels
"You must make sure that you have a system of communication that will enable people to speak out. Once that happens, it is possible for people to deal with terrorism.
"Cooperation between the people and the security services is the only way to deal with terror because we can't just kill everybody we see on the streets'', he said.
The minister said this had become necessary because the battlefield was not defined and the enemy is not defined because he hides among the people or he hides in the bushes.
He said even if their hideouts were known, it was still difficult to attack them because they hide among the people and the army does not want to kill innocent people while trying to kill the insurgents.
He said that if it were a conventional war, the Nigerian armed forces would have finished up the terrorists in 30 minutes.
He said that ending insurgency needed a lot of care, citing Pakistan, Iraq and Afghanistan which had been struggling with insurgency for a long time.
Maku said terrorists were not too powerful or invisible but that government did not want to kill its own people while trying to kill the terrorists.
"The military has the capacity to finish these insurgents in 30 minutes but because of the nature of this war where the insurgents live among the people, where they live in heavy or dense population.
"They live in small groups hiding their identities and when they have the slightest opportunity, they come out with weapons and kill the most vulnerable people.
"They are so cowardly that they hide among the people and every government is careful because we have to uphold the conventions or rule of war.
"We can't go to Maiduguri and kill everybody there; we can't go to Yobe and kill everybody there because terrorists are hiding among them; so it takes a lot of hard work, intelligence, to get them'', he said.
Maku added that the terrorists also operated from outside Nigerian borders and called for greater cooperation among African
countries in this fight.
He said that President Jonathan had called on African leaders to come to terms with the fact that a terror strike in one nation is a strike against all people and that they must cooperate across boundaries.
Maku, however, pointed out that the Federal Government had done a lot of good job in dealing with the terrorists.
He assured that the government and the military would not rest until the country becomes completely safe from terrorists and insurgents.
The minister said that some of the recent attacks were out of desperation and that pressure was on the insurgents.
"Some of the desperate attacks of the recent times is because they are under heavy attack from the military and they are getting desperate.
"That is why they just come out and kill anybody they see on the street whether they are children or women.
"The truth is that there's a lot of pressure on them. We can't say everything in the media but we want to call on the media to understand the nature of the war and also to appreciate the success that is taking place'', he said.