Presidency: Nigeria Is Experiencing A War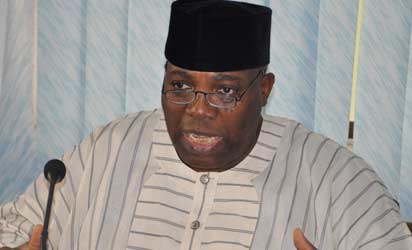 Nigeria's Presidency on Friday declared that the acts of terrorism being perpetrated in the North East shows that Nigeria is at war. The Presidency is seeking the co-operation of Nigerians to put an end to the situation immediately.
The Senior Special Assistant to the President on Public Affairs , Dr Doyin Okupe said:
"We are facing a major problem in the North-east. We are in a war and there is no gain saying that fact. I'm willing to admit that we are in a war situation. Definitely, in a war situation, all sorts of things do happen. You can even see that in the centenary celebrations that we were doing yesterday; virtually every speaker who spoke mentioned the issue of insurgency and terrorism in Nigeria".
According to Okupe, the war against the Nigeria state by the Boko Haram sect was very serious as it had been targeted at the vulnerable women, children and the aged.
"We are dealing with a very serious enemy and until and from what we have learnt now, I believe very strongly that we are in the dying phase of this insurgency. If you look at it from the beginning, there were about 11 states of the federation where these terrorists attacked and they more or less held sway"

"But somehow, our people have managed to push them back. It has been difficult. I mean there was a time they were striking in Abuja at will. Every Sunday, people were even afraid of going to church but today all that has stopped.

"I have the greatest of respect for the Nigerian Military. They deserve that respect because when you want to judge a person or an organization you check their history and record. And you know, when you check the history of Nigerian Army in Nigeria and elsewhere where they have gone to do peacekeeping and UN support for internal problems in other countries, they have done extremely very well.

"I believe that they are professional men and women. I believe that they have the competence to handle this issue and I believe that over the time, they have acquired better training and better equipment but we are dealing with a very serious enemy here. Let us accept it."