Martinez: Hard To Find A Striker Like Lukaku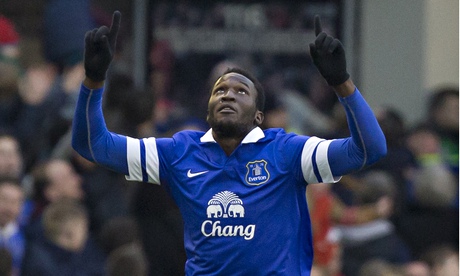 Belgian striker, Romelu Lukaku came off the bench to score the lone goal for Everton against West Ham; a goal which earned the Toffees three points. Everton gaffer, Roberto Martinez was full of praise for the young Chelsea forward who is currently on loan with his side. He believes Lukaku could grow into one of the World's best strikers in the future. Lukaku has been out of action recently due to a chest infection.
"He can be as good as he wants to be,"

"It's clear that you're not going to find another striker around the world who has that power and that strength as well as being a clinical finisher in front of goal.

"I think normally you get number nines who can take on instructions, and he's got everything. He's a young man that has got national demands and a lot in front of him.

"I respect him a lot and can be as good as he wants to be," he told reporters
The Spaniard could not confirm if he would be able to convince Chelsea to sell the 20 years old to Everton on a permanent basis but he pointed out that the experience the player had gained with Everton will help him a lot in the future.
"Remember some players at 20 have very few experiences, but Romelu has already been an important player in Belgium before getting a massive move to a Champions League winning team," 

"Then he had to find a way to be effective in the Premier League before coming to Everton where he has become a 90-minutes player in our league.

"The amount of experience he has had is similar to players of 25-years-old, so I'm very impressed with the way he has developed this season. I think we are going to see a very influential player in the final 11 games of the season."