Ijegun: The Menace Of Scooping Fuel From Vandalized Pipelines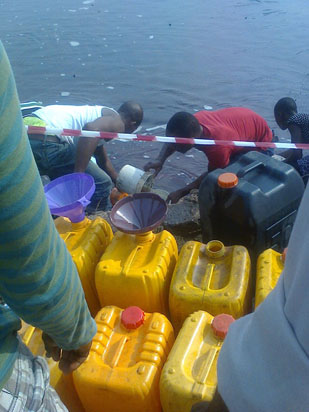 Estimated Reading Time: <1
Will poverty ever let people learn? Will greed ever make people see the dangers of scooping petroleum products from vandalized pipelines.
In 2008, an inferno caused by a pipeline leakage where people had gone to scoop fuel left several people dead and properties worth millions left in flames
People tend to forget that history repeats itself as people were seen scooping fuel in Ijegun Imoren, Oriade Local Council Development Area of Lagos State 
At NewswireNGR , we advise that as good citizens of Nigeria and as people with consciences, we should all stay away from vandalized pipelines and we should promptly report to law enforcement agencies when we notice one or whenever we see people scooping these petroleum products. It is suicidal to go close to vandalized pipelines, you are also risking the lives of others.
The gallon of fuel you are trying to steal will not make you wealthy but can only send you to your grave sooner than you expect.
Stay alive!
Photo Credit: Vanguard News