Chaos As Pupils In Osun State Resume In Conflicting Religious Attires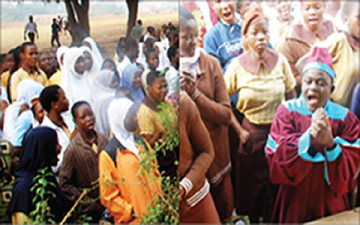 Estimated Reading Time: <1
Confusion appeared to be the order of the day on Tuesday as students of Baptist High School, Iwo, Osun state resumed in Islamic regalia, Choir dresses, white garments and all sorts of attires as against the expected school uniformed.
This weird event cannot be attributed to any group or individual yet.
They are suggestions that the strange dress code was to show disapproval of the same uniform introduced by the state government for all schools in the state. They are also insinuations the confusion was as a result of Christian students making an attempt to fight the wearing of  hijabs in schools founded by missionaries.
There is a pending suit on the wearing of Hijab to school at the Osun state high court.
The drama at Baptist High school was so intense that the pupils refused to listen to their teachers as Christian pupils sang hymns and praise songs while their muslim colleagues chanted the Allau Akbar at the same time
Some student however wore the Aregbesola led-state government approved School uniform. Some students who are neither Christians nor muslims also turned up in attires which were representative of their religious belief.
The atmosphere was filled with Chaos as the drama which had begun on Monday morning had grown on Tuesday.
The teachers appeared to have also lost control of the strange situation.
You may recall that the state chapter of the Christian Association of Nigeria (CAN) had protested the wearing of hijab to schools founded by Christians. They believed it was an attempt to undermine the heritage handed down to them by the early missionaries.
In a responsive move, the Joint Muslim Action Forum issued a statement, condemning the protest.
The group were of the opinion that stopping students  from wearing hijabs in Christian schools showed religious intolerance which will not be condoned.
Photo Credit: Punch