Buhari Accuses Army Officers Fighting B'Haram Insurgents Of Raping Women & Collecting Bribes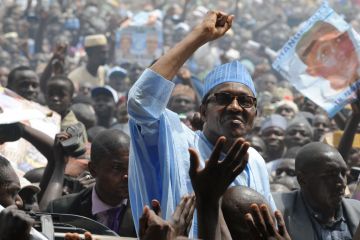 Estimated Reading Time: <1
A former Head of State, Maj-Gen. Muhammadu Buhari (retd.) wednesday scored the Nigerian Army low in its fight against Boko Haram in the north-eastern part of the country.
The Chieftain of the opposition party in Nigeria alleged that there were series of complaints that the military men collected bribes at checkpoints and rape women during operations.
Buhari, a National Leader of the All Progressives Congress, spoke in the Hausa Service of the Voice of America monitored in Kaduna.
He stressed the need for soldiers to return to the basics of military principles by maintaining standards during and after operations.
"Now there are accusations that they collect bribes at checkpoints; that they rape women during operations as was the case in Borno . That was not known before. Now if you kill one of their own, they round up and wipe out the community like what happened at Baga," he said.
The former military leader recalled that in the days of the late President Umaru Yar'Adua, he ensured that there was peace by conveying leaders of the Niger Delta militants to Abuja to talk and ensure peace in that region.
He said, "But everybody knows that the Boko Haram leader was arrested and killed. We all know that in times of crisis, the police should do their work and it is only when such crisis escalates that the military comes in and they don't round up the community in crisis and kill everybody."
The General Officer Commanding of the 1 Division of the Nigerian Army Kaduna, Major General Garba Wahab, said the military and other security agencies needed support and not condemnation in the military's fight against insurgency in Nigeria.
Wahab, who spoke at a stakeholders meeting on security, appealed to prominent individuals in the society to support the military in its quest to fight insurgency and not to be criticising them.
Content Credit: PUNCH