Keshi Blames 'Stage Fright' For Loss
Estimated Reading Time: <1
by Sammy Wejinya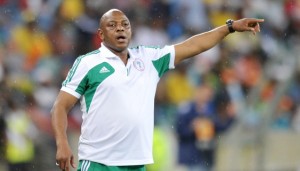 Super Eagles coach, Stephen Keshi has voiced his sentiments following his side's 1-2 loss to Mali in their opening game of the 2014 African Nations Championship (Chan) in South Africa.
Goals from Mali's Abdoulaye Sissoko and Adama Traore rendered Gbolahan Salami's header purely Academic on Saturday and meant Nigeria would basically need to win their final two preliminary fixtures against Mozambique and South Africa to progress to the knockout stages of the competition.
Speaking to the media at the post game press conference, Keshi attempted to explain the reasons behind the loss.
"I was expecting this kind of result because of the anxiety that comes with this kind of championship for players that have not been exposed to tournaments like this," he said.
The Nigerian trainer said his charges only came to terms with the flow of the game when the damage had already been done.
"We did not play our game. We only started playing well in the last five to 10 minutes and that was too late.
"At the half time break, I asked them to feel free and express themselves and I don't know if that worked because we still lost the game," he revealed.
Expectations among Nigerian fans were never at the rafters after key components of the squad like Godfrey Oboabona, Sunday Mba, Gabriel Rueben and Gomo Onduku recently joined European clubs which basically rendered them ineligible for the competition.
The Nigerian league has been on hiatus since October 2013 and Keshi inferred that this may have been responsible for his charges' lack of sharpness.
"I think this is a perfect opportunity for home-based players to move forward and get exposure. If it's about the league of each country, we have been out of action for like four months and we have had these players for only three weeks, but I don't know if that was responsible for today," he said.
Keshi will now hope his players improve rapidly ahead of their second game against Mozambique.