How D'banj Paid Genevieve For Publicity Stunt [READ]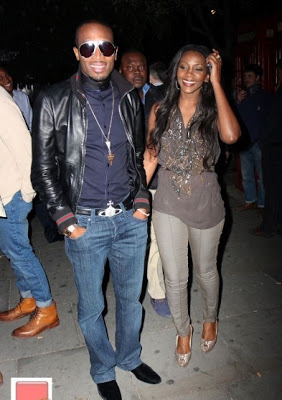 For a while now, fans and observers have continued to speculate that hip hop star, D'banj and Nollywood screen diva Genevieve Nnaji must be dating after the actress starred in music videos and the two are seen attending birthday parties together..
But all of that we hear is far from the actual truth as it was only a publicity strategy D'banj employed to make his video trend in 2010; 'fall in love' when he paid the actress a fee for the inconveniences the stunt could cause her.
Global Village Extra's disclosed that D'banj paid Genevieve the normal fee she charges for starring in films to appear in the video because there was a scene where they had to kiss.
The source was quoted to have said, "Genny collected the same fee she takes for playing such role in a film. It was later that D'banj called her that he would use her for publicity stunt. After some pressure and a promise that he would pay for the inconvenience, she reluctantly agreed."
The hit video Fall in Love, which starred the actress sold millions of copies and the kokomaster smiled to the bank, the report added..

The close source to D'banj who does not want to be mentioned added, "At a point, D'banj toasted Genny, but she turned him down, only for her to hear that D'banj had been telling some of his friends that they are dating. The truth is that D'banj loves her, but Genny never saw it realizable, that was why she called his bluff. She even wanted to debunk the claim officially, but some of us advised her against it, though it wasn't easy because the stuff was embarrassing sort of."
While the media keep speculating whether the wedding bell would ring on the duo or not, one thing is certain, D'banj, who has obviously dropped from the pedestal he was in the Nigeria music industry, has achieved his mission –attention the report concluded.