Jose Mourinho Reposes Trust In Torres, Ba & Eto'o, Plays Down January Transfer Activity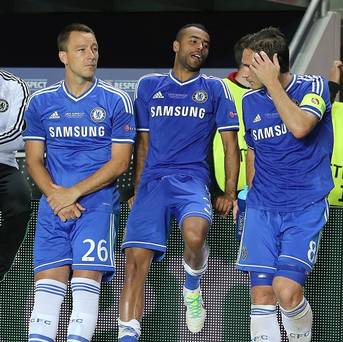 Chelsea manager Jose Mourinho says he is not looking at improve his side in the January transfer window.
The Blues Strikers; Samuel Eto'o, Fernando Torres and Demba Ba have not been in the best of form this season. The three Chelsea strikers have only four Premier League goals between them.
The Special one wants his players to compete for honours but he is sticking with them
"If you tell me [Sergio] Aguero has scored already 10 or 12, [Alvaro] Negredo 10 or 12, [Edin] Dzeko four or five, [Wayne] Rooney eight or 10, [Olivier] Giroud eight or 10, [Daniel] Sturridge eight or 10, [Luis] Suarez 10 or 12. If you ask me would I like my strikers to score eight, 10, 12 goals: Yes,"
Mourinho told reporters.
"If we had eight, 10, 12 [more] goals we would be top of the league. That's a reality but my strikers give everything and the team works hard."

"What can you do more? We work, we keep working. That's the only way I know is to keep working.

"Of course we want the best possible results but I am not waiting for players, I am not asking for players.

"This is a period for the club and this is a period of my team where we have to try and improve the players we have and try to build a future.

"It is my squad. For good and for bad, it is my squad. Of course, it is not the perfect squad but it is my squad and I work with them until the last day.

"To criticise does not help me. What do I win by criticising my players? I win nothing." the controversial gaffer concluded.