30,000 Thai Protesters Force Prime Minister Out Of Govt Building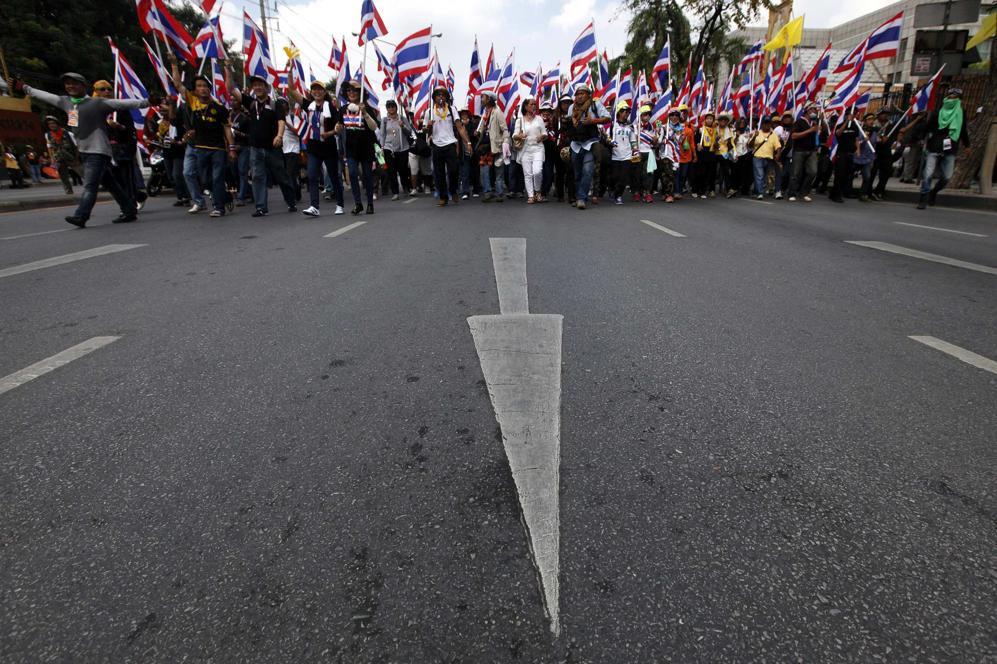 Reuters News agency reports that about 30,000 protesters launched a "people's coup" on Thailand's government on Sunday, swarming multiple state agencies in violent clashes, taking control of a broadcaster and forcing the prime minister to flee a police compound.
Amy Sawitta Lefevre report indicates that Police fired teargas on protesters who hurled stones and petrol bombs in demonstrations that paralyzed parts of Bangkok and followed a night of gun and knife battles in which two people were killed and at least 54 wounded.
A group of protesters forced Prime Minister Yingluck Shinawatra to evacuate to an undisclosed location from a building where she had planned to give media interviews, while hundreds seized control of state broadcaster Thai PBS, waving flags and tooting whistles, the reported stated.
Declaring Sunday "V-Day" in a week-long bid to topple Yingluck and end her family's more than decade-long influence over Thai politics, protest leaders urged supporters to seize 10 government offices, six television stations, police headquarters and the prime minister's offices in what they are calling a "people's coup".
Police said the protesters had gathered in at least eight locations. In at least three of them, police used teargas and water canons.
National police spokesman Piya Utayo said troops were being sent to a government complex occupied by protesters since Thursday and the Finance Ministry, occupied since Monday. "We have sent forces to these places to take back government property," he said on national television.
It is the latest dramatic turn in a conflict pitting Bangkok's urban middle class and royalist elite against the mostly rural poor supporters of Yingluck and her billionaire brother, Thaksin Shinawatra, a former prime minister ousted in a 2006 military coup.
Reuters journalists waiting to interview Yingluck inside the police Narcotics Suppression Bureau were told by Natthriya Thaweevong, an aide for the prime minister, that she had left after protesters made it inside the outer part of the compound, the Police Sports Club, where the bureau is located.
In the early afternoon, protesters massed in front of a police barricade outside Wat Benjamabhopit, also known as the Marble Temple. Police fired teargas as some protesters tried to heave aside the heavy concrete barriers.
The deep detonation of stun grenades, followed by the jeers of protesters, echoed across the historic quarter.
"I just want the people named Shinawatra to get on a plane and go somewhere – and please, don't come back to our country again," said Chatuporn Tirawongkusol, 33, whose family runs a Bangkok restaurant.