Anuoluwapo Adebayo: @anu_chayil shares tips on caring for your fitness gear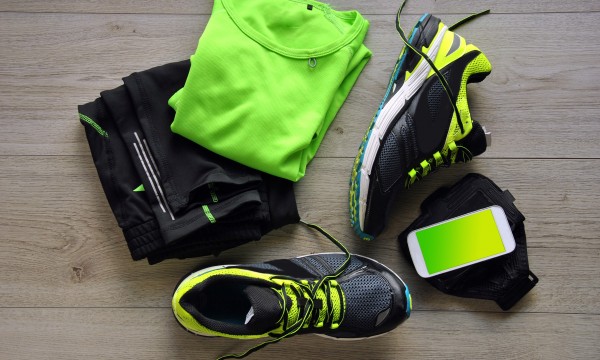 Our workout gear 'go through' so much more than our regular clothes and accessories; they absorb sweat and oils when we exercise therefore to make sure they serve us well and last long then we need to take care of the different pieces; head bands, sports bra, vests, T-shirts, legging, joggers, shorts, towels, socks, shoes and mats.
Choosing your workout gear should be more about comfort and fit and not just looking good. Pay attention to fabric types and know the intensity of your work out; if you exercise gently and probably only take walks, then wearing fabrics like cotton is acceptable however you need to pay attention to your shoes to prevent pain or injury. Wear fabrics that help your skin breathe and won't become heavy or itchy when it absorbs sweat. Pick items that are appropriate for the weather as well as for specific activity for instance don't wear loose clothes during yoga or while going cycling as this may get in the way of your performance.
Before buying a pair of workout shoes, have your feet accessed by a professional in a sports/fitness store; do not always assume you know your perfect size as workout shoes are not often designed like normal shoes; they are to provide support for your feet's activities and provide shock absorption for every move. Choose a good quality brand, even though a bit pricey will definitely serve you well and last long.
Good quality workout clothes are typically expensive as they are made of fabric that is stretchy and made to support body parts yet still delicate enough to not cause any harm or discomfort due to frequency of use.
Do not leave used workout gear in your gym bag, in your car boot, on the floor or in your laundry basket; wash immediately after your exercise session to prevent stains and bad odour from lingering as well as to avoid mould.
Hand wash your workout clothes in cold water and line dry them; this is more advisable than machine wash and drying as heat and some fabric softeners, bleach or using excess detergent can damage elasticity; cause shrinkage and often retains odour from perspiration.
You can use natural fresheners like vinegar or baking soda to help items stay fresh and prevent bacteria. Using baking soda in your shoes can absorb the sweat, then leave to air dry. To get rid of stains on your running shoes, do not toss in the machine as this weakens the protective cushions of the shoes, rather use a cloth or old soft toothbrush with a bit of soap and clean/wipe.
Regularly wipe your mat with a damp cloth and disinfecting cleanser. Wash and clean other fitness accessories as often as possible. If you have your own home gym or fitness tools then make sure to sanitize them as well.
If you feel like any of your fitness items have begun to hinder your performance like a yoga mat losing its grip or a sports bra not preventing your breasts from bouncing or shoes that hurt your ankle, then it is time for a replacement.