"I Did Not Forfeit $153.3m Because I Did Not Own it" – Alison-Madueke Explains Why EFCC Lied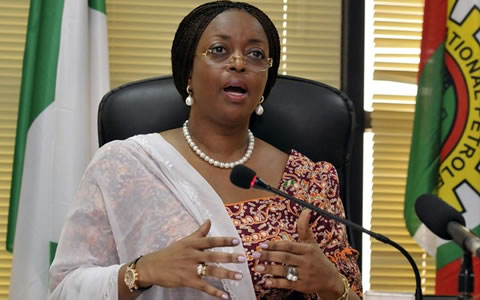 A former Minister of Petroleum Resources, Mrs. Diezani Alison-Madueke, on Saturday said she did not forfeit $153.3 million to the Federal Government as claimed by the Economic and Financial Crimes Commission (EFCC).
Arguing that no such money belonged to her, she said, "I cannot forfeit what was never mine."
A Federal High Court in Lagos presided over by Justice Muslim Hassan had on January 6 ordered the temporary forfeiture of the sum of $153,310,000 allegedly siphoned by the former minister from the Nigerian National Petroleum Corporation (NNPC) and stashed in three banks. The forfeiture order was sequel to an ex parte order sought by the EFCC and accompanied by a nine-paragraph affidavit claiming that Alison-Madueke, sometime in December 2014, conspired with a bank chief executive on how the sum of $153,310,000 would be moved from the NNPC. Justice Hassan had given the banks and any other interested party 14 days to appear before him to prove the legitimacy of the monies, failure of which the funds would be permanently forfeited to the Federal Government.
But in her reaction yesterday, Alison-Madueke said EFCC was now taking advantage of her silence and decision to allow ongoing investigations by the British National Crimes Agency into alleged corrupt practices against her to run its full course, to defame her.
The former minister said she would no longer give the anti-corruption agency any more mileages to vilify her.
She said the $153.3 million the EFCC said she forfeited to the Federal Government did not belong to her, and as such she could not have given up what did not belong to her.
In her response to the EFCC corruption claims against her which THISDAY obtained in Abuja, she said there was no evidence to establish she owned the $153.3 million.
She explained that the EFCC capitalised on a legislation on advanced fee fraud and other related offences to link her name and identity to funds it could not establish their real owners.
Noting that this was unethical, she said: "I am deeply disturbed and bewildered by recent media reports claiming that by virtue of an order of the Federal High Court, I have forfeited to the Federal Government, the sum of $153.3 million which I purportedly stole from the Nigerian National Petroleum Corporation.
"The principle of fair hearing demands that I should have been notified of formal charges if truly there was a prima facia evidence or indictment against my person linking me with the said issue, so as to ensure I have adequate legal representation. This was never done."
Continuing, the former minister said: "I cannot forfeit what was never mine. I have never stolen any money from NNPC or any other entity I do not know the basis on which the EFCC have chosen to say that I am the owner of these funds as no evidence was provided to me before the order was obtained."
"I am also informed by my lawyers that the legislation under which the EFCC obtained this order is for situations where the funds are believed to be proceeds of crime and the owner is not known. I do not therefore understand how the EFCC can in the same breath say the monies were mine when they would/should not have used the procedure which applies only to funds of unknown ownership.
"If indeed they used this particular legal procedure because they did not know who owned the monies, then how can they now falsely be attributing the ownership to me."
Alison-Madueke also challenged the EFCC to publish incontrovertible evidence of the $153.3 million lodgement, its beneficiaries, and links to her, as well as the NNPC's accounts from which the lodgments were made and her authorisation of same.
She said as minister of petroleum resources, she only had statutory influence as approved in the Petroleum Act, over NNPC's finances.
She note another instance where the EFCC alleged that $700 million was found in her Abuja home, the former minister asked the Central Bank of Nigeria (CBN) to further clarify and lend credence to EFCC's claims by showing evidence it has the money in its custody.
"Should the videos of this $700 million cash discovery not have made good viewing? Or should those who recovered this money not tell the public where exactly the money has been kept? Perhaps, the Central Bank should corroborate that it is in custody of these monies found in my house," she said.
On claims she illicitly benefitted from the $1.3 billion financial settlement of the protracted Oil Prospecting Lease (OPL) 245 oil block deal between Malabu Oil, Royal Dutch Shell and Eni, Alison-Madueke said as minister she did not participate in any activity relating to financial payments in the agreement, and only played the statutory role mandated to her to see to the end of the dispute.
She also said that she had no house worth $18 million in Abuja as claimed by the EFCC, and that her family home in Yenagoa Bayelsa which the agency said was worth billions of naira, was uncompleted and worth N394 million as declared in the code of conduct.
"It is saddening that after eight years of serving my country, my experience as a public servant has been fraught with continuous malicious castigation and character assassination, all in the name of personal vendettas or political horse-trading.
"One error that cannot be ascribed to me is stealing from Nigeria and defrauding my country. I cannot sit back and allow the fabricated accusations against my person designed by unscrupulous persons with vengeful agenda go unchallenged," she said.
On the dividends that accrued to Nigeria from her stake in the Nigerian Liquefied Natural Gas (NLNG) Ltd, the former minister said: "It is pertinent to note that at the end of my tenure, I left behind in the LNG dividend fund for the incoming administration, the sum of $5.6 billion.
"I did this to ensure continuity in the crucial gas sector development which underpins the entire power and energy sector and which was and still is absolutely imperative for the country's current and future economic development."