"Christians Will Not Sit Down And Allow Themselves To Be Killed" — Onaiyekan Worried over Buhari's Silence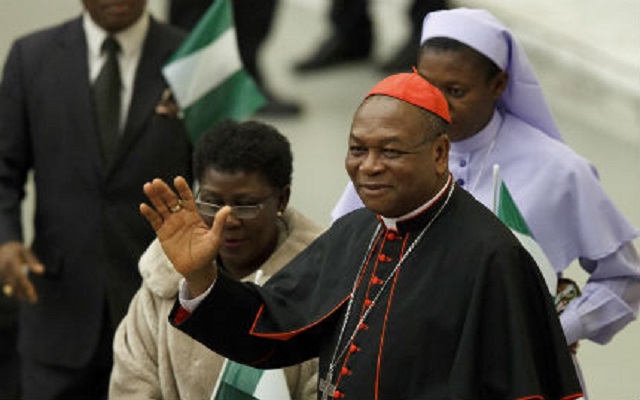 Estimated Reading Time: <1
The Metropolitan Catholic Archbishop of Abuja Diocese, John Cardinal Onaiyekan, speaks with PUNCH Newspaper's FRIDAY OLOKOR on the killings of Christians in Southern Kaduna and the silence of President Muhammadu Buhari on the matter
Read excerpts of the interview..
If this trend continues, do you foresee a situation whereby Christians being killed will embark on revenge?
I am hoping that this trend will not continue. I am hoping that efficient actions will be taken to stem the tide and stop the activities of these groups. I am hoping that efforts will be made to actually trace those who have committed those atrocities, prosecute them openly and bring to justice whoever is behind it, no matter how highly placed. What happens is that when the security agencies are doing their investigations and then they need to interrogate a big person, they are afraid, if he is an archbishop, an imam or emir. In this matter, the security of the nation is at stake, nobody should be a sacred cow and nobody should be exempted, everybody should be ready to explain his or her actions.
I foresee a situation where those who have been badly damaged and who are being killed daily will be saying, 'I cannot sit here and be killed' and they will organise themselves, not because they are Christians but because they are human beings who cannot sit down and allow themselves to be killed. If we put it in Christian terms, then we are making religion responsible and religion is not responsible. If religion is made to be responsible, it means then that we bishops are organising crusades to buy guns and distribute them to the people. Everybody has a right to self-defence when they are left without any alternative. This is why we are warning the government that they should not allow people to reach a stage where they can no longer count on government to protect them and this has nothing to do with whether you are a Christian or a Muslim.
If, for example, the Christian community in Southern Kaduna has lost confidence in government, they will not respond to any invitation from Governor el-Rufai who is a Muslim and who is seen as Muslim and a Fulani, and not as their governor.
Many Nigerians across ethnic and religious divides are worried about the killing of Christians in Southern Kaduna. What is responsible for these killings?
It would have been terrible if Nigerians were not worried. If we look back, we will find out that these things (killings) have been going on for quite some time. There was a major outbreak after the 2011 election. Southern Kaduna suffered a great haemorrhage during the post-election violence. The violence recorded numerous killings that were clearly ethnic and religious. We know that at the end of it all, many people were driven into refugee status in Kaduna. Many Hausa and Muslims had to take refuge in Kaduna because they were not safe anymore in the southern part of the state. What caused that? I don't know if it was ever fully investigated. As usual, when they investigate an issue, we don't get the full report. What we know is that late Governor Patrick Yakowa was said to have taken some effective actions that tried to calm nerves. We know Governor Nasir el Rufai very well. We expect that he would have devised ways and means of dealing with the situation.
I have passed through Southern Kaduna in the last few months, and when I travelled from here (Abuja) to Jos through those areas, my host in Kaduna was surprised that I passed through Kafanchan. He said, "That (route) is a very dangerous area, don't take that road anymore." It is a pity if the President is badly informed about the reality. I open my email and I see all kinds of horrible pictures. Maybe Mr. President does not have the time to check emails. But the President of Nigeria must have somebody who is checking emails for him and whoever is doing that should have the courage to let him see what he is seeing.
Of course, those who are being killed are Christians but whether they are being killed because they are Christians is another matter. For me, whether they are Christians, Muslims or pagans, what is important is that innocent people should not be killed. When did Nigeria become a place where we take the law into our hands? You say people did something wrong to you in 2011. Let us presume, does that justify the killing of women and children six years after? That worries me because in a situation like this, you need responsible leaders. I expected that these Miyetti Allah people, who claim to be speaking on behalf of the Fulani, will be responsible people we can discuss with, who can talk to their own people and let them know that if indeed they are the ones doing this, then it is not right.
Another news we got that made me worried and which the victims in Southern Kaduna have capitalised on was the allegation that the governor of Kaduna State said that he was surprised they are still killing despite the fact that he had given them money. If he said so, then the question is, so he knows them? You gave them money, then they still went ahead to kill? Surely, he can trace them and this is no longer a situation where you stay in secrecy. Bring them out into the full view of the whole world.