Buhari Wants $29.9bn Foreign Loan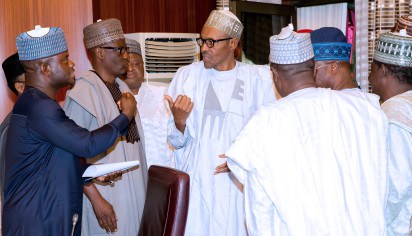 President Muhammadu Buhari has written to the National Assembly asking them to approve a foreign loan of $29.960 billion to address infrastructure deficit in the country.
The amount, which is under the government's External Borrowing Plan, is to be spent on power, railway, roads, education, health, water resources among others.
The request was sent via a letter the president sent to the Senate President Bukola Saraki and Speaker of the House of Representatives Yakubu Dogara.
The letter was read at plenary in the House of Representatives yesterday but it was yet to be read in the Senate.
The money is made up of projects and programmes loan of $11.274 billion; Special National Infrastructure projects $10.686 billion; Euro Bonds of $4.5 billion and Federal Government Budget Support of $3.5 billion.
"Considering the huge infrastructure deficit currently being experienced in the country and the enormous financial resources required to fill the gap in the face of dwindling resources and the inability of our annual budgetary provisions to bridge the infrastructure deficit, it has become necessary to resort to prudent external borrowing to bridge the financing gap," he said.
The president added that the World Bank had provided a loan of $125 million to the FG to procure vaccines and other ancillary facilities to stop polio, and also provided $450 million to assist in the reconstruction and rehabilitation of the Northeast.
He said some of the borrowed funds would be allocated to the Northeast to cater for polio eradication and routine immunization, $125m; community and social development project, $75m; Nigeria States Health Programme Investment Project, $125m; State Education Programme Investment Project, $100m; Nigeria Youth Employment and Social Support Project, $100m and Fadama III Project, $50m.
Buhari said because of the emergency situation in the Northeast region, "it has become inevitable to request for the NASS leadership approval pending the consideration and approval of the 2016-2018 borrowing plan by the National Assembly to enable us disburse these funds immediately."
Efforts to get more details of the sources of the loans from the ministry of finance proved abortive but when contacted, the Media Adviser to the Minister, of Budget and National Planning, James Akpandem, told Daily Trust on phone that it was only when loans were sourced that the Ministry would consider the receipts for allocation in the annual budget.
"This particular loan you are talking about, I don't have details about it," Akpandem said about the $29 billion dollars loan being sought for by the federal government.
He said the federal government had the right to decide whether or not to take a loan and the Ministry of Budget and National Planning would factor the funds into relevant projects.
"If the President says Nigeria is going to source for loans and it is going to be a component of the budget, it would have been in our position to talk about it," he said.