Govt Within Govt? EFCC Chair, Ibrahim Magu Says "Dark Forces Want To Hijacking Anti-Graft Agency"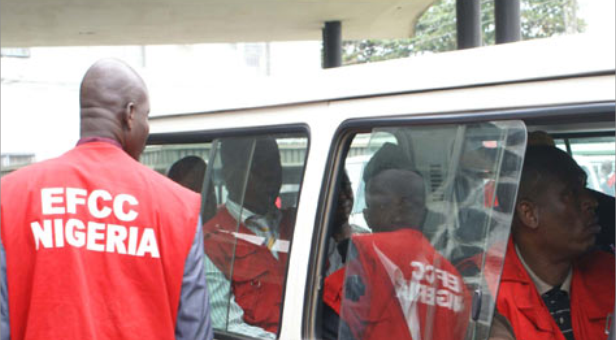 The acting Chairman of the Economic and Financial Crimes Commission, EFCC, Ibrahim Magu, on Friday said some dark forces had been busy hijacking the powers given to the anti-graft agency to battle economic and financial crimes in the country.
PREMIUMTIMES reports that Mr. Magu stated this while presenting a paper titled "This Is Our Chance'' at the Symposium organized by members of the National Association of Democratic Lawyers, NADL, in Lagos.
"When these dark forces gather (as they have), our expectation is that bodies such as the National Association of Democratic Lawyers would rise up, without any further prompting and come to our rescue," the EFCC chairman said.
"The tug-and-pull for the soul of the EFCC aptly mirrors that for the control of the destiny of our dear nation."
Mr. Magu did not provide details of those he said were gathering and scheming to appropriate the functions and powers of his commission.
He however vowed that his agency would counter the dark forces and ensure that the war against corruption was not derailed.
"Whilst we may not claim omniscience, one thing we are convinced of in the Commission is that Nigeria will be doomed if we fail to win the war on corruption," he said.
The EFCC chairman said Nigerians would no longer be held hostage by the twin evils of corruption and impunity.
He promised that the Commission under his watch would challenge anyone, including certain senior lawyers, judges and other judicial officers, against whom concrete evidence for perverting the course of justice had been established.
He lauded the patriotic fervour of the members of the association in the fight against corruption, saying their confrontation of the corruption monster through the instrumentality of the law was an inspiration to ''those of us on the enforcement side of the law.''
Mr. Magu, however, stated that the Commission, in the course of its anti-graft war, had always been confronted with people he described as ''a gang of rogue elements,'' who had been a spoke in the wheel of the Commission's activities and also given a bad name to the bar and bench.
According to him, ''the biggest form of corruption is not the ones you find in government offices or banks; it is not the ones that is plaguing the oil industry or pension administration. The biggest, most virulent form of corruption that ever existed is the one that has eaten deep into the fabric of the Temple of Justice.
''It is to you who minister in the temple of justice that we all run to -high or low, mighty or weak, lawmakers, law breakers and law enforcers. It is to the courts that we all run, for protection.
"However, we are all witnesses to the abuse of skills, knowledge, powers, position and privileges by a few rogue elements, who, whilst being a tiny fraction, have an outsized influence on the direction of the Nigerian judiciary and indeed, the Nigerian nation.''