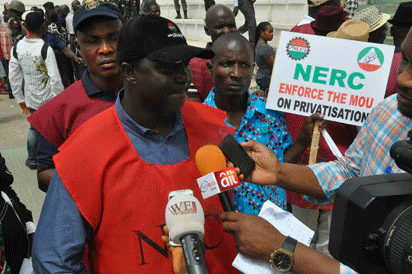 The Nigeria Labour Congress (NLC) has condemned in strong terms the Imo Government's three-day work, two-day farming for workers recently introduced by Governor Rochas Okorocha.
NLC President Ayuba Wabba gave this indication while fielding questions at the News Agency of Nigeria (NAN) Forum on Sunday in Abuja.
Wabba said that the policy which implied forcefully sending workers to farm was against the International Labour Organisation (ILO) Convention and also against the rules and procedures in service.
"First, we have condemned in very strong terms what the Imo State governor tries to do by forcefully sending workers to the farm.
Don't forget that the public service rule is very clear about what trade a worker can actually do to join to his normal routine services.
It provided that on your own volition, you can join farming as part of your normal routine activities and that is allowed by law.
But to criminally now go to the State House of Assembly to pass a law overnight without public hearing, without consultation is against the ILO convention; against our rules and procedure in service.
To say that you want to force workers compulsorily to go into farming two days a week is the height of not even understanding how governance and how public service is run.
I am sure that is condemnable," he said.
According to him, Okorocha's policy is quite different from what other states are doing.
He explained that while other states were encouraging workers to embrace farming voluntarily, the Imo government's policy on the other hand was compulsory.
He, however, explained that the ILO Convention and the International treaty made it clear that working hours should not be more than eight hours a day and 40 hours per week.
Wabba further noted that Nigeria is a signatory to the treaty prohibiting forced labour.
"What the governor is doing is forced labour; we are not slaves; even under slavery, you cannot force a worker to work against his volition. Employment is a contract between the employer and the employee and therefore, they are rules of engagement; even what you earn is through a collective bargaining process; it cannot be imposed or forced on you," he added.
Therefore, Wabba said that the NLC directive, the law had been made ineffective as workers had ignored it and continued with their work normally.
"How can you for instance ask a teacher not to go to school to teach pupils for two days a week or a health practitioner; disease doesn't give notice.
You don't give notice before you fall sick; so at the time when you are going to farm an epidemic can actually come up; how you can address all of this?
Or you want to put two standards in place; you ask one category of workers to come to work three days a week and another category to go to farm.
That is not done; there are better ways to do that; he can encourage farmers; he can allocate lands give them fertiliser, give them incentives.
You can put laws in place and encourage workers to go into farming but not through a very cruel process of working against the law and forcing them to go to farm which is against our law; against our convention," he said.
The NLC president stressed that the international labour law, which Nigeria had ratified was superior to the one passed by the Imo State Assembly.
"We have a superior law which Nigeria had ratified, which is also an international law that prohibits forced labour; what he is trying to do by that law, is forced labour".
He said that the NLC had already written officially to the Federal Ministry of Labour and Productivity, which statutorily has the responsibility to enforce the labour laws of the issue and would also forward it to the ILO.