For The Second Time In A Month, 40 Nigerians Deported From The UK, Australia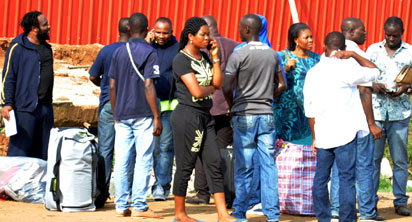 For the second time in a month, United Kingdom and Australia, yesterday, jointly deported 40 Nigerians for various immigration offences. The deportees, males and females, arrived the Hajj camp area of the Murtala Muhammed International Airport on chartered aircraft.
It will be recalled that last year, more than 40 Nigerians were similarly deported from UK for what the United Kingdom government called immigration offences. Switzerland also deported some Nigerians.
The latest deportees came on two separate chartered flights. One of the chartered aircraft, with registration number ZTA -4741, arrived Lagos Airport with 36 Nigerians: 29 males and seven females.
Also, an Air Seychelles aircraft, with registration number SND-1, brought four males into the country for similar immigration offences. Citizens of other African countries, such as Ghana, Liberia and Egypt, were also deported.
The returnees were received by various agencies at the airport, while officials of Nigerian Immigration Service, NIS, checked their identities to ascertain their nationalities.
A source close to the terminal, who did not want his name in print, said some of the deportees were violent when immigration officers attached to the international wing of the airport attempted to take their fingerprints.