Buhari Jets Out On Tuesday Takes Anti-corruption Campaign To London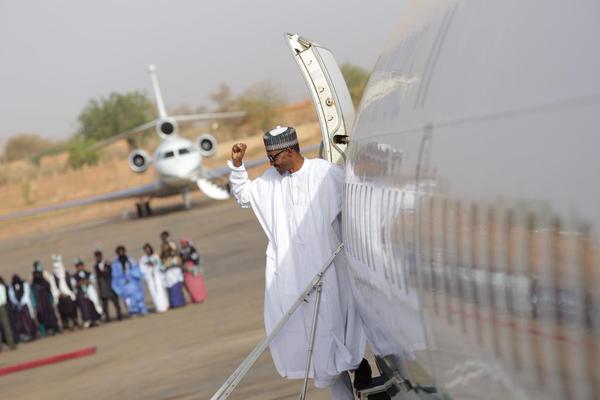 President Muhammadu Buhari will on Tuesday travel to London, United Kingdom to participate in the international Anti-Corruption Summit, which will be held in the British capital on Thursday.
According to a statement on Saturday by his Special Adviser on Media and Publicity, Mr. Femi Adesina, the President, as an internationally recognised leader in the global fight against corruption, will play a prominent part in the summit which will be hosted by Prime Minister David Cameron with many other Heads of State and Government in attendance.
Adesina said Buhari would head of the summit's opening, deliver a keynote address titled, 'Why we must tackle corruption together' at a pre-summit conference of development partners, the Commonwealth Enterprise and Investment Council, Transparency International and other civil society groups on Wednesday.
The presidential spokesman also disclosed that the President is one of the world leaders scheduled to speak at the opening session of the Anti-Corruption Summit with others, including Prime Minister Cameron and the President of the World Bank, Dr. Jim Yong Kim.
He added that Buhari would thereafter join other participating heads of state and government at special plenary sessions on exposing corruption, tackling corruption and driving out corruption.
The statement read in part, "In his address to the summit and interactions with other participating leaders, President Buhari will urge the international community to move faster on the dismantling of safe havens for the proceeds of corruption and the return of stolen funds and assets to their countries of origin.
"The President will also reaffirm his administration's unwavering commitment to the fight against corruption and the Federal Government's readiness to partner with international agencies and other countries to identify, apprehend and punish corrupt public officials.
"President Buhari's delegation to the Summit will include the Minister of Justice and Attorney-General of the Federation, Alhaji Abubakar Malami and the acting Chairman of the Economic and Financial Crimes Commission (EFCC), Mr. Ibrahim Magu.
"Before returning to Abuja on Friday, May 13, 2016, the President is expected to have a separate meeting with Prime Minister Cameron to discuss ongoing Nigeria-Britain collaboration in the war against corruption and terrorism, as well as other issues, including trade and economic relations between both countries."