Governor Shettima Steps In To Counter Borno Central Senator Who Said Boko Haram Occupies Half Of The State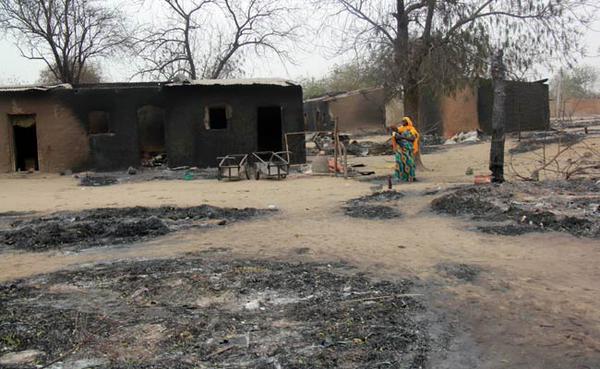 Governor Shettima Confirms Military Success in Borno
…. Air Commodore Alonge is New Spokesperson of Operation Lafiya Dole
As the military appoints a new spokesperson for the Operation Lafiya Dole, Governor Kashim Shettima of Borno State has debunked a recent claim by Senator Baba Kaka Bashir Garbai that Boko Haram controls substantial parts of the state.
The governor described the comments of the senator as mere emotional outburst.
Garbai who spoke to journalists on Saturday evening during a condolence visit to Dalori village where 65 persons were reported killed last week by the insurgents said, the truth must be told that both Boko Haram and the Nigerian nation have full control of three separate local governments in troubled Borno State and have level of dominance in 21 other local governments.
Garbai, who went to Dalori with financial and material assistance to the people of the village, said: "I feel highly demoralised, devastated in the sense that this is the village we came during the election and they were going about their normal business. The activities that were ongoing were like confidence building.
"They actually got the signal a few days before the attack that the insurgents were likely to attack them, they reported to the constituted authorities but nothing was done.
In Case You Missed It, READ !! Boko Haram Controls Half of Borno, Says Senator Garbai Representing Borno Central
Governor Shettima who stated this while speaking with journalists shortly after arriving Maiduguri from an official visit to Saudi Arabia, said "the claim by the senator representing Borno Central in the senate, Senator Baba Kaka Garbai that the military has not degraded Boko Haram, was emotional outburst.
"It is either the senator was emotional or misquoted. The military has recorded tremendous successes in the fight against Boko Haram in the last six months. You know Ngala, Dikwa and some areas were recently liberated and as the Chief Security Officer of the state, I can confidently say Boko Haram has been decimated, demoralised and degraded. Borno is better off than it was six months ago," shettima said.
Kashim urged the people of the state to continue to support military and security agencies with useful information to enhance their counter-insurgency operations.
Meanwhile, Air Commodore Dele Alonge has been appointed the Media Coordinator of Theatre Command of Operation Lafiya Dole.
A statement signed by the Deputy Director, 7 Division, Nigerian Army, Maiduguri, Colonel Mustapha Abubakar Anka stated that, he is an alumni of National Defence University Islamabad-Pakistan and also seasoned Public Relations Officer.
Air Commodore Alonge who is a member of many professional bodies was the Director Public Relations and Information of the Nigerian Air Force before his new appointment.