Nigeria's Southern Region (South South & South West) Already Meeting To Shield Itself From Post Election Violence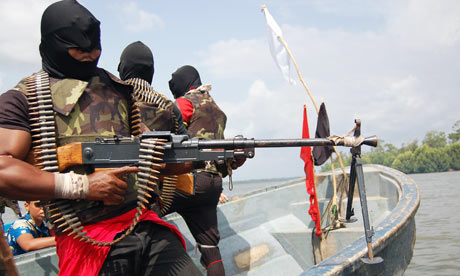 by Musa Abdullahi
Former Commander of the defunct Movement for the Emancipation of the Niger-Delta, MEND, Victor Ebikabowei Ben, alias General Boyloaf and head of the Odua People's Congress, OPC, Gani Adams, held a secret meeting, Wednesday, in Lagos.
According to Vanguard Newspaper, details of the meeting, which lasted several hours, were not disclosed, but a dependable source said, "OPC and ex-MEND officials have agreed on a working alliance for the March 28 presidential elections."
"Part of their resolution is that both groups will work together in the event of any premeditated violence against the South-South and South-West at the general elections," the source added.
Deadly election-related and communal violence in northern Nigeria following the April 2011 presidential voting left more than 800 people dead, Human Rights Watch had said.
The victims were killed in three days of rioting in 12 northern states. Nigeria's state and federal authorities should promptly investigate and prosecute those who orchestrated and carried out these crimes and address the root causes of recurring inter-communal violence.
It is however not clear if the union by the Militant groups of southern states is geared toward a face-off between the terrorists group Boko Haram with stronghold in Northern Nigeria but the 'details of the 'uncommon' meeting will be revealed in months to come another source' tells NewsWireNGR.