Jonathan Condemns Killing Of Gwoza Emir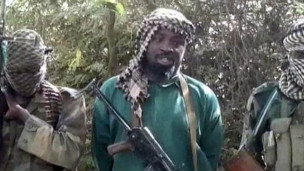 President Goodluck Jonathan extends sincere condolences to the government and people of Borno State as well as Northern Traditional Rulers on the death yesterday of the Emir of Gwoza, Alhaji Idrissa Shehu Timta.
In a statement issued by Mr. Reuben Abati, Spokesman to the President,  stamens reads, "Jonathan utterly condemns the heinous murder of the Emir by brigands and terrorists who waylaid the convoy in which he was travelling with two other Emirs."
The President believes that the brazen attack and the wanton slaying of the respected traditional ruler reinforces the vital need, which he emphasized in his Democracy Day Broadcast, for all patriotic Nigerians, irrespective of where they come from, their religions or political loyalties, to come together and work with urgency and complete unity of purpose to quickly end the murderous attacks by terrorists and insurgents that continue to threaten the security, cohesion and well-being of the nation.
President Jonathan reassures the nation that Nigeria's Armed Forces and security agencies will continue to receive all the empowerment and support they require from the Federal Government to speedily give maximum effect to his orders that they take all necessary action to stop the brigands, terrorists and insurgents who descended to new depths of infamy yesterday with the dastardly killing of a First Class Traditional Ruler.
The President prays that Almighty Allah will receive the soul of the slain Emir and grant his family and subjects the equanimity to bear his loss.