Upcoming CONFAB: Igbo Leaders Seeks Secession & Self Determination Rights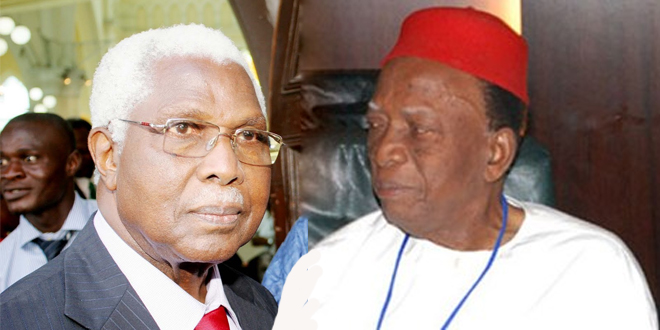 Some Igbo leaders led by lawyer, Prof. Ben Nwabueze have presented a paper which would guide Igbo delegates at the proposed National conference. Yesterday, two booklets titled: "The Position of the Igbo Nation at the National Conference for a Renegotiated Constitution" . The booklets were compiled by respected Igbo leaders. Prof Ben Nwabueze apologized on behalf of former Vice President, Alex Ekwueme who had rejected the nominations to lead Igbo delegates to the proposed national conference.
Professor Nwabueze cited old age and the quest to get younger ones more involved as a reason for the opting out. The booklet strongly proposes the inclusion of the right of secession or self determination in the new constitution.
Professor Nwabueze told newsmen in Enugu that they advocated for the right of the zones to form the basis for the federating units as well as the rights of self determination, including the right to secede.
Nwabueze revealed that while he is 83, Ekwueme is 81 or 82 years of age, and noted that they had both been involved in previous constitutional conferences.
"But we also agreed that we owe a duty to Ndigbo, that we are not going to abandon our people. That we are not going to be delegates sitting in the hall exposed, taking all abuses, bombardments, but we will stand behind; our role should be that of guidance.," he said.
While summarizing the contents of the presented booklet, Nwabueze said that Ndigbo are asking for the inclusion of the right of secession or self determination in the new constitution, the establishment of regional or state police among other suggestions
"In this document we are proposing the rights of the zones as the federating unit to self determination, including the right to secession… the Yorubas have already accepted it, they are coming to the conference with this. Its part of the law of the country already because the African Charter on Human and Peoples Rights, says that all people shall have an unquestionable and inalienable rights to self determination.
"It is part of the law of this country already because I know that we have already enacted a law, the National Assembly enacted a law incorporating the African Charter as part of domestic law of Nigeria. This is the only international treaty that has been incorporated as part of our domestic law.
"So it's nothing new; all that we are now saying is that it should be elevated from being part of the ordinary law of the country into a right enshrined in the constitution, that's all that we are saying now," he explained.