Report: Senators allegedly planning to impeach Akpabio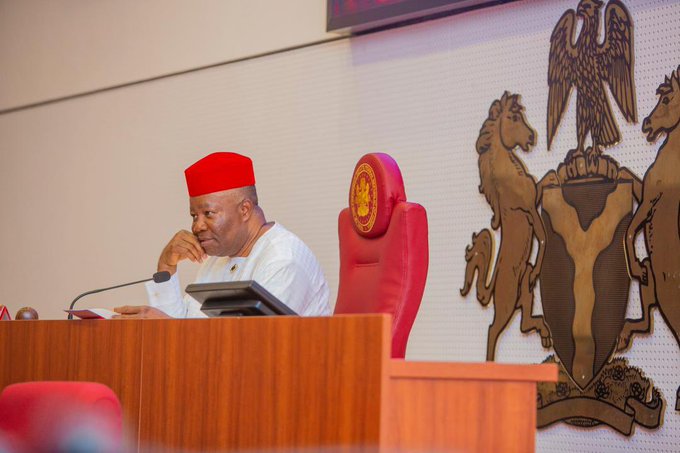 Some senators are allegedly planning to impeach the senate president, Godswill Akpabio, according to some media reports.
The Chairman Senate Committee on Media and Publicity, Senator Yemi Adaramodu, however refuted the media reports in a statement in Abuja on Saturday.
"Our attention has just been drawn to a syndicated satanic verses in a section of the media, of purported and illusory plots of leadership change in the Senate.
"The Nigerian Senate is one united and fraternal family,this imaginative composition is in the realm of the fake and fallacious story of N100 million per legislator.
"It is apt to note that the 10th Senate, under the leadership of Senator Godswill Akpabio has carried out its legislative and constitutional duties diligently.
"Within a span of less than 60 Legislative days, the Senate has passed life-enhancing bills and motions," he said.
He added: " It has screened and confirmed Service Chiefs and Ministers, among others, apart from very essential oversight functions.
"We urge the fifth columnists, who operate undoubtedly outside the Senate, desperate to cause disharmony through media stunts and thus clipping the wings of Nigeria's democracy, to take caution.
"The Senate should be allowed fresh air to settle down for its national assignments, so that the Nigerian project can move forward."
Likewise, Eseme Eyiboh, the Special Adviser on Media and Publicity to President of the Senate, says that the National Assembly under the leadership of Sen. Godswill Akpabio is stable and harmonious.
Eyiboh said this in a statement on Saturday in Abuja, describing reports on the purported imminent change in the leadership of the senate as false.
He said that the senate cannot be distracted by innuendo and what appeared to be a syndicated media attack from outside the National Assembly.
Eyiboh said that the reports were complete imaginations and laced with malice to achieve what senators were yet to comprehend.
"Senators are presently concluding their holidays in their constituencies and other places they have chosen to spend their time after the rigours of the inauguration and ministerial screening and other constructive engagements.
"All senators are also refreshing themselves ahead of the resumption, therefore, any suggestions that they are presently engaged in other subversive plots against the institution is rather uncharitable.
"It is mostly uncharitable for those senators who initially did not support the emergence of the leadership but who have all unanimously endorsed the Akpabio-led leadership.
"Continuing to link these senators with needless conspiracy with barely disguised innuendo is rather unkind," he said.