"My husband and I were not allowed to vote, they said we look like Igbo" – Read reactions, with videos & picture as widespread irregularities mar elections in Lagos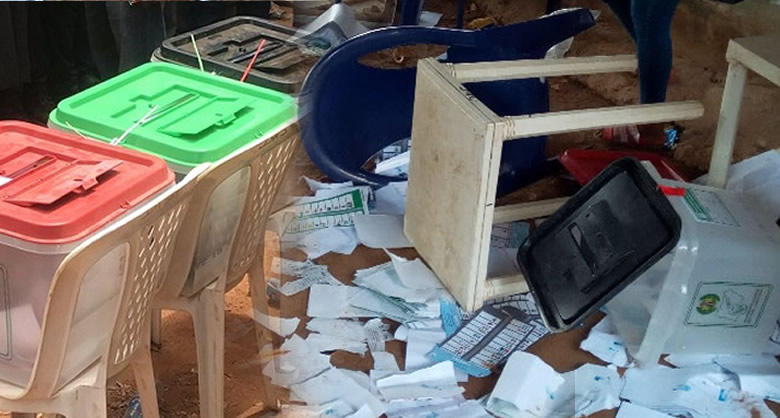 Voters decried widespread irregularities in a Nigerian state election on Saturday, casting doubt on the country's ability to organize credible national polls next year.
The elections in Lagos took a completely different dimension as voters reported intimidation by armed thugs allegedly working for the ruling party in the state.
We have curated some of the reactions across Twitter as voters lament widespread intimidation while Police officers looked on.
Before today, the Lagos State Parks Management Committee Chairman, Musiliu Akinsanya, also known as MC Oluomo, had issued a threat to Igbo people to stay at home during the governorship election in Lagos on Saturday if they do not want to vote for the ruling All Progressives Congress (APC) candidates.
This is seen in a viral video in which the loyalist to Bola Tinubu was addressing a gathering and warning their Igbo neighbours not to bother going to the polling units on Saturday if they intended to vote for candidates other than the ruling party's flag bearers.
The 2023 governorship and State Assembly elections will take place on March 18, 2023, in many states across the country.
"It is not a fight. It is not wahala (a problem). What do we want to correct it? Our PVC. And we will stand there. Yoruba should get there first and should vote first.
"When we finish voting, we'll be watching because we have begged you and you said you have heard. If you make a mistake, you will understand. Please tell them, we have begged them. If they don't vote for us, it is not a fight. Tell them that, Chukwudi's mother, if you don't for us, sit down at home. Do you understand? Sit down at home," the Lagos State Parks Management Committee Chairman said in the viral video.