"We no be crayfish! We are human beings!" – Diobu waterfront residents' emotional plea to end ongoing demolition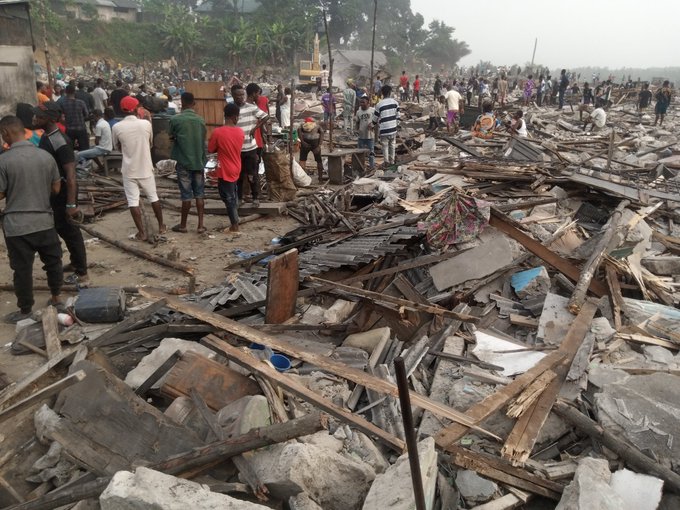 Residents Stranded as Rivers State Government evicts Elechi Waterfront Community on Saturday, as homes and residents were sacked, demolished at Elechi Phase I, Diobu, Port Harcourt.
The state government had earlier threatened to evacuate residents in some coastal communities in the state for allegedly harbouring criminals. This move had been objected to civil society organisations. Regardless, the government still carried out the demolition.
Amnesty International, and its civil society partners working in Port Harcourt, Rivers State, have condemned the ongoing forced eviction of waterfront communities in the Diobu axis of the city.
Amnesty made the condemnation in a joint statement with Justice and Empowerment Initiative, Nigerian Slum/Informal Settlement Federation, Social Action Collaborative Media Advocacy Platform, and Center for Environment, Human Rights, Environmental Rights Action/Friends of the Earth and Development.
According to the groups, over 2000 people were already displaced from their homes while tens of thousands in neighbouring communities are under imminent threat.
The statement reads, "The forced eviction began in Elechi Phase I waterfront community in the morning hours of January 29, 2022 without adequate notice nor any form of consultation by the Rivers State Government whose task force came for demolition together with security forces, including "Operation Sting" from the Rivers State Police Command. After the residents peacefully formed a human shield to prevent the excavator from entering the community, the demolition squad used the premises of a neighboring company and broke a company wall to enter into the waterfront and commence the forced eviction of hundreds of homes and businesses.
"By nightfall, hundreds of families were rendered homeless, guarding their lives and properties in the open with nowhere to go.
"The excavator that has forcibly evicted as many as 470 households in Elechi Phase I over the course of January 29, 2022 remained in the community at nightfall. Another 15 neighbouring communities are under immediate threat of forced eviction should the demolition squad continue working. The total population of Diobu waterfronts was estimated at 60,000 as of a 2016 community-led census.
"The eviction threat began with the New Year's address given by Rivers State governor, Nyesom Wike, on December 31, 2021, which declared a crackdown on "identified criminal hideouts" in Port Harcourt township and the Illoabuchi axis of Diobu starting from second week of January – a vague menace that struck fear in the ears of waterfront communities who have seen previous administrations use such fearmongering and smear campaigns to justify forced evictions of waterfront communities like Agip (2004/05), Njemanze (2009) and Abonnema Wharf (2012).
"Waterfront communities from Diobu came together to discuss the threat and wrote a joint letter to the Governor on 7 January 2022, expressing their fears and requesting an audience to discuss community-Government partnership to address security concerns and strengthen community policing instead of evictions. Despite many attempts to follow-up, there has been no reply from the Rivers State governor's office since that letter – and no effort to engage or consult communities.
"On 19 January 2022, a Rivers State Government Task Force visited several waterfront communities in the Diobu axis of Port Harcourt, arbitrarily marked homes for demolition and told residents they should vacate within 7 days. There was no written notice and no effort to engage in dialogue. Since that time, the communities have made several further appeals for dialogue to the Rivers State Government by way of local news media and through different contact persons, all to no avail.
"On 24 January 2022, an urgent matter was brought by Justice & Empowerment Initiatives – Nigeria (JEI) in the Rivers State High Court to enforce the fundamental rights of residents under threat of eviction and seek emergency injunctions. However, despite an affidavit of urgency filed with the process and urgency that is meant to govern fundamental rights enforcement cases, the matter is yet to be assigned to a specific court as at when the eviction began on 29 January 2021.
"Forced evictions such as has taken place in Elechi Phase I community – and is threatened in 15 neighboring communities – are a gross violation of national and international human rights law. Governments have a duty to respect the right to adequate shelter, the right to fair hearing and due process of law, the right to property, the right to dignity of the human person – rights protected by the Nigerian constitution as well as regional and international treaties to which Nigeria is party. Nigerian courts have specifically found that evictions of people from the homes and communities they have occupied for years, and where they have formed social and economic attachments, without prior consultation and resettlement is a violation of the right to dignity of the human person.
"Further, extensive research has documented the immediate and longer-term impacts of forced evictions – from homelessness that can last weeks, months, or years to loss of livelihood, negative health consequences and death, separation of families, interruption of education, etc. Forced evictions are also counterproductive in terms of cities' development and security-related objectives.
"As we condemn the forced eviction of Elechi Phase I waterfront, we call on the Rivers State Government and the Federal Government of the Republic of Nigeria to put an immediate stop to the forced evictions in Port Harcourt, to provide immediate shelter and emergency relief for those displaced, and engage with evictees to plan for the reconstruction of their homes and livelihoods. We stand ready to support the communities to constructively engage in finding win-win alternatives."