Court rejects defence lawyer's request to withdraw his services to Abdulrasheed Maina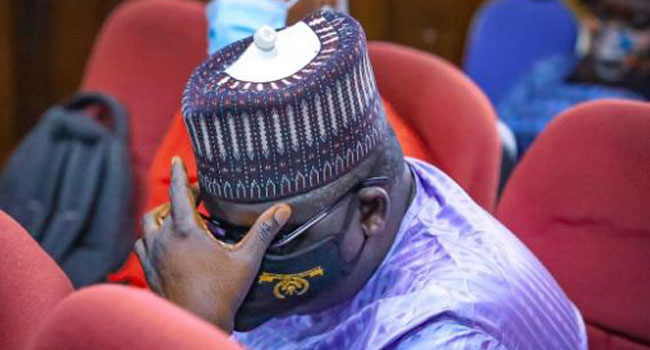 A Federal High Court in Abuja has rejected an application by Sani Katu, counsel to Abdulrasheed Maina to withdraw his services to the former chairman of the Pension Reform Task Team (PRTT).
Katu at the court session on Wednesday made the oral application to the court.
But the prosecution counsel, Farouk Abdullah countered the motion because it contravened the section 349(8) of the Administration of Criminal Justice Act (ACJA).
The section 349(8) of the Administration of Criminal Justice Act (ACJA) stipulates that: "where a legal practitioner intends to disengage from a matter, he shall notify the Court, not less than three days before the date fixed for hearing and such notice shall be served on the Court and all parties".
"My only reservation is the non-compliance with Section 349(8) of ACJA," Abdullah said.
"In view of the non-compliance of senior counsel to the provision of the extant laws of withdrawal of counsel, we pray the court to refuse the application of the senior counsel and direct that the business of the day be done."
Katu however replied that he had told the prosecution that he wanted to withdraw his representative after the close of last Tuesday's proceedings.
"When we appeared for the first defendant yesterday and in an attempt not to spring surprises on the prosecution, I specifically told the prosecution off record of our desirousness to withdraw from this matter. Hence our inability to file a formal application," he said.
Rejecting the application, the judge said communication taking place outside the office and in between counsels cannot be tended in the court.
"What is off record is not before the court and I cannot take countenance of what is not before the court," Abang held.
"M.S Katu has not offered any reason for seeking to withdraw from this matter," the judge held
"His application to withdraw is to compound issues and to hold the court to ransom.
"In any event, from the record from the court, a notice has not been filed before the court.
"If a law requires that notice should be filed, it should be filed. It is not a sentimental issue but an issue of law which cannot be overlooked.
"The obvious lapses on his part cannot move the court to grant this application.
"The application to withdraw legal representation and cause confusion in the matter lacks merit and is accordingly refused."