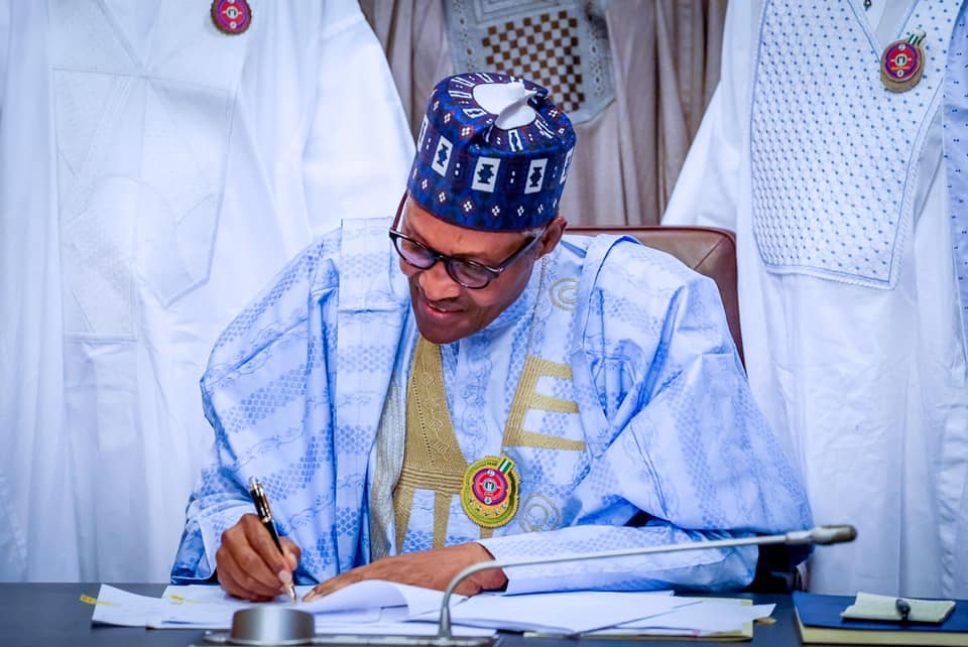 Poor Dawisu, who knows how he's faring now?
He's the latest up the belly of the tiger that is now the President Muhammadu Buhari regime, gasping for air, begging to breathe.
Dawisu, whose real name is Salihu Tanko-Yakasai, was secretly abducted by personnel of the Department of State Services (DSS or SSS) on Friday, in Kano, and hurriedly ferried to Abuja without the knowledge of either his family or friends. Close friends reported his disappearance 14 hours later, on Twitter, after their many attempts to reach him yielded no results. It was in the heat of condemnations for his disappearance that the Nigerian state's secret service finally owned up to having him in their custody.
But his incarceration is not his only predicament. He also lost his job on Saturday. Even before the public knew his whereabouts, the Kano state government had announced he'd been relieved of his appointment as media aide to governor Abdullahi Ganduje. The governor said Dawisu had continuously made "unguarded comments and utterances … deemed contrary to the stand of the All Progressive Congress (APC) government which he is serving".
What is perhaps scarier than the Buhari government's appetite for onslaught against democratic norms is the reason for Dawisu's arrest. He made a Twitter post acknowledging, as everyone else with a thinking head, that the APC as a party had failed to secure the lives and property of Nigerians, which is the primary duty of any government. And most importantly, that post was a direct reply to a report of the kidnap, by terrorists now conveniently renamed 'bandits', of over 300 school girls in Jangebe, Zamfara state. The girls have yet to be rescued.
The kidnap of the school girls came one week after 42 others (including 27 school children) were kidnapped in the Government Science Secondary School, Kagara, Niger state. These previous victims of the kidnappers had also not been rescued when that of the Jangebe girls happened.
You would expect that the only thing the government should concern itself with at that point would be how to immediately rescue the traumatized kids, and then ensure no child is ever kidnapped again whether they are in school or at home. But empathy is not the stuff of despots, neither is responsibility.
When tyranny isn't busy oppressing, it is busy praise-hunting. In the case of Dawisu, a former praise-singer who dared to voice genuine frustration, the Buhari regime convinced itself he needed to be made an example of, perhaps to signal to future turncoats of the consequences of dissention.
But there is nothing unusual, or even remotely provocative, about Dawisu's tweet. There was nothing in that post that many other Nigerians have not said. A day before the tweet that angered Buhari's DSS, the Northern Elders Forum observed that Buhari's government was incapable of protecting Nigerians. Two days before that, 43 Civil Society Organisations demanded for Buhari's resignation. In December 2020, just two months ago, the Northern Elders Forum had again called for Buhari's resignation over insecurity. In November, a political party called for his resignation. There was similar condemnation of the president in June, 2020 and February 2020.
The failure of Buhari's government to tackle insecurity is well documented. Insecurity, on his watch, isn't as bad as it was when he took the reins six years ago. It is worse, far worse, growing in breadth and dimension daily. And for a former military general, Buhari's government should be thoroughly embarrassed.
Then there's the part of total absence by the president. No matter the enormity of the issue citizens face, Buhari is never sighted anywhere outside of Aso Villa. He's firmly cocooned in the presidential mansion built and serviced with Nigeria's petrodollars and taxpayers' money.
And if you think his unavailability is due to anything other than laziness and sheer lack of interest in the task he was elected to perform, just wait for the return of normalcy in international travels. Buhari will resume his globetrotting – a venture that offers him the chance to stack up thousands of dollars in estacodes.
Dawisu's critics think he's being served his just desserts for riding the tiger twice in two elections – 2015 and 2019 – by actively campaigning for Buhari, a known coupist, documented human rights abuser and flouter of court orders. They have argued that the sacked media aide deserves no pity. But the problem with that thinking is that this tiger devours everyone – those who rode on it and those who ran from it. Understanding that the monster is an equal-opportunity carnivore will help us forge a united front in tackling this fully emerged dictatorship.
I agree that Dawisu had, in the past, defended some outrageous things about Buhari. He also defended the unceremonious dethronement of the former emir of Kano, Sanusi Lamido Sanusi who – like Dawisu – spoke truth to power while in power. Oh, he also lived with the indignity of serving and having to defend a governor – same one that just sacked him – who was seen on national TV stuffing wads of dollar bills in his babanriga like a common thief. And coming from an activism background, his critics think the ideal thing to do was resign when it emerged that most government actions had stood at variance with his long professed personal values.
Yet there's a part of the conversation we hardly have in Nigeria – the near total lack of opportunities outside of government. It is this lack of opportunities that can provide an answer to another often-ignored question – 'why don't people in government ever resign?'.
Sometimes I try to understand the difficulty in resigning, even if I don't justify it. For instance, after the Nigerian army murdered scores of peaceful protesters in Lekki last October, for asking government to disband a murderous unit of the Nigeria police that routinely kidnapped and extorted mostly young men, there were rumours of the 'resignation' of a certain media aide to the president who used to be popular with the civil society demography before joining government. It turned out that rumour was false.
So, there's the part of people holding strongly to their principles, but there's also the part where people really need to survive, thrive and then make some social progress. The shrunken opportunities outside of government do not guarantee any of these. The facts support this, as Statista projects unemployment in Nigeria in 2021 to hover around 31.4%.
Unlike in Nigeria, if you work with the United States government and decide to resign at any point, and depending on your level of education, there are options for career advancement outside of government. Actually, there's first a guarantee that you will not go hungry or slip into poverty. If you are more inclined to policy formulation, interrogation and research, you might find a placement in one of the 1,777 think tanks in that country, the highest in the world. For comparison, Nigeria doesn't have more than 5. Actually, my casual google search showed me only 4.
If the academia is your thing, there are about 5,300 universities and colleges you can approach for a chance to either teach or work in other supporting roles. Nigeria has less than 200.
If you love the practice of law, there are about 50,000 law firms, with at least 206 of them employing more than 500 staff. For an idea of the robustness of that industry, there are at least 1.3 million lawyers in America, all practicing and earning.
There are also about 577,000 manufacturing firms in the US, according to Statista, employing over 11 million people. I have no comparative data from Nigeria where, even the manufacturers association of Nigeria (MAN) has no such figures on its website. But we can peep into the world of difference that exists between both countries using manufacturing contributions to GDP. In 2020, manufacturing contributed $52 billion dollars to Nigeria's GDP, while it contributed $2,359.9 billion to that of the US in 2019. Even if there's a major decline for US manufacturing in 2020, the year we are assessing Nigeria's, it is clear that Nigeria's manufacturing sector is nowhere close.
There's also management consultancy. I couldn't get a current figure, but from an old information provided by the United States Census Bureau, there were 115,683 Management Consulting Firms in the US as far back as 2002, nineteen years ago. These firms are exclusive of purely Accounting firms that are, as at today, 138,000 in number. There are also, as at 2012, about 20,836 architectural firms. Extrapolate the possible growth of the management consulting firms from 2002 to 2021 and imagine the number now. Do the same for architecture firms too.
We can really go on and on, in every sector, including sectors that are nearly non-existent in Nigeria, like tech, and you see why there are just limited options in the country. If you resign from a government job in America, you will not be unemployed. If you do so in Nigeria, where are you going to get employed?
Again, this is not me justifying people not living their professed principles. I'm explaining my understanding of their possible limitations.
It is then through the prism of these limitations that we need to view Dawisu's tweet that got him arrested and fired. An earlier post months ago got him suspension. I believe he knew that further criticisms of the government would land him the sack from an extremely sycophantic Ganduje who pretends to be loyal to only the person in a bigger political office. His treatment of his former boss and predecessor in office, Rabiu Musa Kwankwaso, is a testament to his disregard for anyone from whom he can derive no benefits.
And for the Yakasais, history has repeated itself. Dawisu's father was arrested and detained in 1983 by the Muhammadu Buhari junta. And now, 38 years later, in his reincarnation as civilian dictator, Buhari has the younger Yakasai, who likely was a toddler when his dad was hauled into Buhari's gulag, arrested for exercising his inalienable right to freedom of expression on a really important and urgent national conversation.
While some may be tempted to wish Buhari's handcuffs on all who enabled his return to power, the bigger issue is how to checkmate him, seeing that he is going to come for the rest of us. That is on the one hand. On the other hand is the need to amplify conversations on how to open up our economy for productivity, so that people of principle can have options of exit if trapped in a government without a soul, just like Buhari's. This second leg of the conversation is as important as the first, seeing that the Buhari regime has the worst GDP growth record in over 20 years. His policies are impoverishing Nigerians, and further limiting their capacity to dissent.
And when Dawisu finally gets out of this senseless detention, lessons learned should guide his actions and leanings going forward, because if there was any doubt that leopards don't change their spots, Buhari's last six years has that doubt cleared.
____________________________
Chinedu Ekeke is a NewsWireNGR in-house contributor and writes from Lagos Nigeria
Disclaimer
It is the policy of NewsWireNGR not to endorse or oppose any opinion expressed by a User or Content provided by a User, Contributor, or other independent party. Opinion pieces and contributions are the opinions of the writers only and do not represent the opinions of NewsWireNGR
---
kindly donate to the work we do using our interim PAYPAL https://www.paypal.me/NewsWireNGR