Just In: Nigerian comedian and activist Mr Macaroni arrested #OccupyLekkiTollGate #EndSARS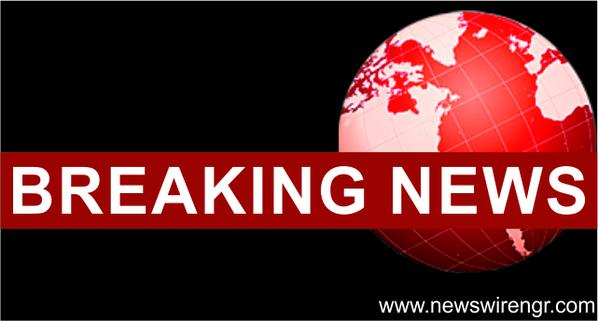 Estimated Reading Time: 2
Nigerian comedian and activist, Debo Adebayo known as MC Macaroni arrested as he was on IG live at the premises of Lekki Toll Gate Saturday.
As early as 7:am, Some #OccupyLekkiTollGate protesters were on Saturday attacked and arrested by the police in Lagos State.
In the live streamed video, he was heard saying, "Rinu is on that panel, Temi is on that panel, those are the only two youth reps there but they have hijacked that panel and we have been seeing what has been happening with our eyes," he noted.
Macaroni also a front-line member of the #EndSARS was speaking in reaction to the Lagos Judicial Panel of inquiry set up to look into the allegations that the army and police opened fire on protesters on Oct. 20.
In the video, shortly before he was driven away by the Police, he added, "I dont know where there are taking me, there are about driving somewhere, no wahahala I am with you – honestly, it is not a crime that people are not on the toll gate, as a matter of fact, I am happy that people are not on the toll gate because your safety is very very important".
More than 20 suspected protesters have now been arrested.
The plan to #OccupyLekkiTollGate came after the ruling of the Lagos Judicial Panel of Inquiry to reopen the Lekki toll gate.
The panel, headed by Doris Okuwobi, a retired judge, on Saturday ruled in favour of the Lekki Concession Company, LCC, to repossess the toll plaza for repairs and insurance claims.
The ruling was supported by five members out of the nine-man panel, with four other members, including Ebun-Olu Adegboruwa, a Senior Advocate of Nigeria (SAN), and the youth representatives dissenting to the ruling.
One of the prominent youths in the fight against police brutality and extrajudicial killings in the country, Rinu Oduala, stepped down from the Lagos State Judicial Panel of Inquiry and Restitution set up to investigate cases of police brutality in the state.
She announced the decision in a series of tweets on Friday.
"I will be stepping down from the Lagos Judicial Panel as it is now obvious that the government is only out to use us for performative actions," she said.
Rinu and Majekodunmi Temitope had been sworn into the panel on October 27, 2020, to represent the youths in the wake of the nationwide #EndSARS protests.
While thanking the government for the invitation and some of the successes recorded from the panel, she, however, stated that she would not be part of a cover-up.
"What I will not do is be part of a cover-up. I am proud that I took the invitation because some of the successes the panel has recorded so far have been incredibly powerful for the people," she said.