Chinedu Ekeke: That "nama" may eat grass and drink water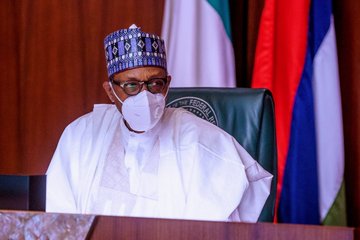 Estimated Reading Time: 8
I will spare you the details. Chances are that you already know them.
But if the subject is about solving Nigeria's perennial herder-farmer crises, then it is not in any way complicated. Five years of the President Buhari administration is enough to have shown a path to lasting solution.
And if that pathway was provided, the recent rumblings in the South West would have been totally avoided. There wouldn't have been a Sunday Igboho (real surname: Adeyemo) the new regional hero. Neither would there have been a reason for governor Rotimi Akeredolu to order herders within Ondo forests to vacate. Those herders may not have been there in the first place.
You see, the issue here is the clear absence of the requisite will, by the Buhari government, to advance solutions that will take care of both herders and farmers. All his government does is issue statements when the next conflict occurs, during which people either get killed or forced to flee their ancestral homes.
When you see how Nigeria is consumed with daily chatters and clatters over herdsmen, you'd think the country is the world's highest producer or exporter of cattle. It is tiring, because we are not even in the top ten. Nigeria ranks 14th, and contributes a paltry 1.36% to the global cattle inventory. That is less than 10% of Brazil's contribution, and just 10.6% of India's. Even African countries like Ethiopia, Sudan and Tanzania have much more cattle heads than Nigeria. Ethiopia alone has nearly three times Nigeria's number, while Sudan has more than double what Nigeria has; still, they don't go about slaughtering their citizens because nama must eat grass and drink water. Amnesty International reports that over 3600 Nigerians were killed in herders-farmers clashes between 2016 and 2018. Hundreds of thousands were also displaced. More have died from such conflicts since that 2018 report was released.
There is nowhere in the cattle production value-chain that Nigeria leads the world. Not in dairies, nor beef, nor hides. In 2019, the top 15 beef exporting countries raked in a total of $45.3b. And you can be sure that Nigeria is not anywhere near those countries. Even Argentina, a country about one-fifth our population, made over $3b from beef exports.
So, what is this carnage about?
It is evident that countries who lead in this subsector do not apply Nigeria's stone-age method of dragging cattle from Kaura Namoda to Akpabuyo, and back to Ushongo and Akwanga. They keep their cattle at a place and take care of them.
There's no winner in Nigeria's model: it leaves the cattle so emaciated and unable to produce enough meat or dairy; it causes herders to overwork themselves trekking impossible miles, and it makes farmers lose their crops. Then when there's a clash, people lose their lives and the nation loses manpower.
Again, what exactly is this our antiquated model about? Is it about improving the livelihoods of these herders, and by extension improving the economy, or has it something to do with fulfilling a secret desire to dominate other ethnic groups in the country? And there's a pointer to the latter. The national president of Miyetti Allah Cattle Breeders Association of Nigeria (MACBAN), Bello Abdullahi Bodejo, was reported as boasting that every land in Nigeria belongs to the Fulani, and that they don't need permission to enter any land to graze on it.
This chutzpah by the Miyetti Allah president follows a pattern, a pattern that no one in the government has come out to disavow. In early 2018, after Fulani herdsmen descended on residents of Guma and Logo local governments of Benue state, killing scores of them, Nigeria's minister of defence at the time, Mansur Dan-Ali, after a security council meeting chaired by president Buhari himself, came out to address state house correspondents. Irritated, he declared that Nigeria's grazing routes that were operational since independence had been blocked, and wondered what the media expected would happen in such circumstance. I am not aware that the president ever cautioned the minister for such statement. But it is also understandable why there was no condemnation from Buhari. It appeared the minister was speaking the president's mind because, as I mentioned above, the meeting from which Dan-Alli emerged to spew that drivel was chaired by Buhari.
In the case of the Miyetti Allah president, Buhari's government is also mum. No one has told him to stop making such provocative statements of Fulani people owning every land in Nigeria.  
But whether the government realizes it or not, reality beckons: you can't – and shouldn't be permitted to – destroy other people's lives and livelihoods with your own means of livelihood. C'est finis!
Any government honest enough to want to solve the problem will not begin by pleading with victims of killer herdsmen to 'understand', give peace a chance and accommodate their brothers, as Buhari and his government have consistently done in the lifetime of his administration. That is hypocrisy, and an insult to victims' lived experiences, because this matter isn't about understanding and accommodation. It is about life and death, and survival and extinction. Nobody has stopped Fulanis in all nooks and crannies of Nigeria from doing legitimate business or living wherever they want.
So, here's my rough guess: I think the president is nostalgic about the old ways of rearing cattle. And it is understandable. I mean he is Fulani himself and a lot of Fulani in Nigeria rear cattle. He inhabited that world as a young boy growing up in the village. But cattle rearing cannot be reduced to just moving cows from one place to another. It is a multibillion-dollar industry that employs millions of people globally. In the United States' alone, over 767,000 people are employed in beef production. The average rancher's salary is $69,620 per year. Convert that to naira and a rancher is earning over N2.6m in one month.
And no, cattle rearing is not for only plebeians. Most ranchers are university graduates. The value chain employs educated people at different links. Cattle rearing is an important industry that can create jobs, with truly living wages, for thousands of Nigerians.
The old practice where rich men buy cattle and hand over to poor Fulani to help them take to people's farmlands for feeding must stop immediately. Feeding your cattle must be part of the cost of raising them, which should form part of its price when finally being sold. I haven't seen any poultry farmer who takes his chicken to maize or millet stores to feed them. If the chicken farmer buys feed for their chicken, why should the cattle rearer insist on free food?
In 2019, the Buhari government proposed a feeble attempt at solving the herdsmen crisis. The government wanted RUGA settlements all across the country. But most states in the South resisted, and said it was an attempt to 'Fulanise' Nigeria – a concern which, viewed from the recent utterances of the Miyetti Allah president, has proved valid. But some Northern states, about twelve of them, told the federal government they were ready to donate land for the programme. This is two years after that promise. I asked on twitter the other day about the progress of the settlement centres and I was shown pictures from only Kaduna state. And it appeared the construction work is still at base level. The other eleven states haven't done anything.
If it is not about a secret desire to prove that the Fulani own Nigerian lands, then the federal government and those states who mouthed willingness for RUGA in their states should show, with work done, that they care about the welfare of the Fulani herdsman and his cattle.
If anyone thinks the vegetation in certain parts of the country serves as quality pasture for cattle, then let there be a way of making people in those parts benefit monetarily from it. It could even spur largescale production of them. Let the forage in those parts be harvested and sold to herders for a small fee. Cattle rearing, in the end, is business.
Government can also help with grants and funding of technology that will see the planting and grooming of cattle feed in all the ranches. Again, this is only if anyone is serious about solving the problem.
But my guess is that the Nigerian state under Buhari will, true to character, not lift a finger in resolving this matter. What will happen is that the issue will be forgotten until another clash leaves even more people dead, then we will see a subtle defence, possibly from official quarters, of those insisting on feeding their cattle with people's crops.
Nigeria's rulers, who are direct successors to the colonialists that converted Nigeria to a country just to serve their economic interest, need to be reminded that they owe their life and wealth and enjoyment to this country, and so will lose more than anyone else if the country descends into anarchy. It is in their best interest, more than anyone else's, to ensure there is peace. But as they have seen from the recent rumblings in the South West, nobody is interested in peace by a president's fiat. The peace Nigeria needs must be firmly rooted in justice, equity and fairness. And expecting people to lose their farms to cattle rearers in the guise of tolerance is the textbook definition of delusion.
Of course, we know nama will need to eat grass and drink water to survive. Let's put them in a ranch and take the grass and water to them.
____________________________
Chinedu Ekeke is a NewsWireNGR in-house contributor and writes from Lagos Nigeria
Disclaimer
It is the policy of NewsWireNGR not to endorse or oppose any opinion expressed by a User or Content provided by a User, Contributor, or other independent party. Opinion pieces and contributions are the opinions of the writers only and do not represent the opinions of NewsWireNGR
---
kindly donate to the work we do using our interim PAYPAL https://www.paypal.me/NewsWireNGR