Rotimi Amaechi wants zoning arrangement for political offices respected ahead of the 2023 elections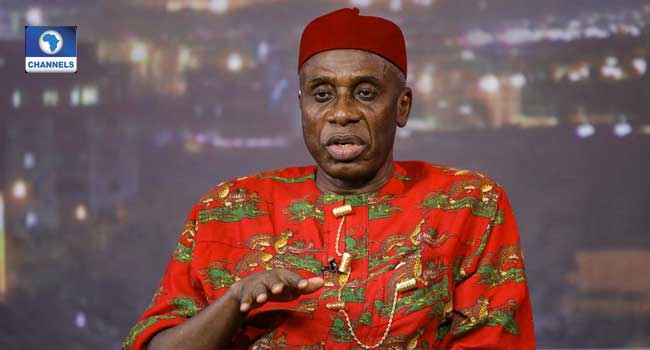 Estimated Reading Time: 1
Rotimi Amaechi, minister of transportation, says the zoning arrangement for political offices should be respected ahead of the 2023 elections.
Amaechi, who spoke during a Channels TV programme on Sunday, said the arrangement, which is usually between the north and south, should remain the same.
Amaechi said, "It is a difficult question for me to respond to." And this was a question on a consideration for a South East chance at the Presidency.
He then proceeded to add, "I just believe that the zoning which was done in the north and south should be respected, just like Fashola said".

A bit too early to have that conversation. Why not allow me to complete the assignment given to me by the President? – Rotimi Amaechi, Minister of Transportation on contesting the presidential seat. #SundayPolitics pic.twitter.com/JHxCIaYSQj

— Channels Television (@channelstv) November 29, 2020
NewsWireNGR recalls that the former Governor of Lagos State and Minister for Works and Housing, Mr Babatunde Raji Fashola had last week said while the nation's constitution does not provide for a zoning formula, it is a matter of honour for parties who had entered into such agreements to stay true to their words.
"On zoning, first let us talk about laws and let us talk about the agreement. The law is the Constitution. The constitution prescribes the age when you can contest for certain positions and there is nothing in the constitution that says zoning".
The minister who is from Rivers state, also said it is "a bit too early" to have conversations about contesting for president either in 2023 or afterwards.
Fashola who has been criticized by Northern groups over his remarks, had added during the interview, that, "Political parties are clubs where you write agreements just like the social clubs and you can decide that it is the youngest person who will be the chairman of the club or party or that the oldest person or woman should lead.
"That is a matter of agreement among people. But the constitution that sets up the requirements of political party formation does not prescribe zoning".