#EndSARS: Sanwo-Olu pleads for peace in Lagos State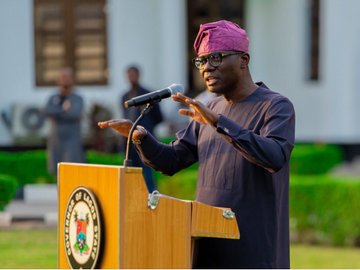 Estimated Reading Time: 1
The Governor of Lagos State, Babajide Sanwo-Olu has urged the people of Lagos State to embrace peace in the aftermath of the EndSARS protests and the attacks that followed.
The Governor appealed to the people to avoid being used by external forces to destroy the peace of the state.
He spoke during a stakeholder's meeting on Tuesday.
The meeting tagged 'Internal Security and Conflict Resolution in Lagos State was held at the Adeyemi Boro Auditorium, Alausa.
Sanwo-Olu warned that the coordinated attacks on lives and destruction of properties that followed the EndSARS protests should make everyone vigilant and more security conscious.
He promised that the government will open communication links with the people so that misinformation and conspiracy theories can be curbed.
He said, "We have to reignite the communication link between government and the people so that fifth columnists or conspiracy theorists will not be able to infiltrate and spread disinformation and misinformation that would jeopardise the future of our country or the opportunities available for our youths to contribute to the greatness of our country."
The stakeholder's meeting also had Minister of Interior, Rauf Aregbesola; Minister of Police Affairs, Maigari Dingyadi; human rights lawyer, Femi Falana, and others in attendance.
The targeted attacks the governor referred to is the aftermath of the EndSARS protest and the Lekki shootings.
In October, thousands of Nigerians marched in Lagos and other cities to demand an end to the Special Anti-Robbery Squad, or SARS, a police unit accused of extrajudicial killings and abuses through the EndSARS
The government announced the unit had been disbanded, but many Nigerians remained unconvinced as officials have promised an end to the unit and its alleged abuses before.
The protests continued, subsequently leading to hoodlums and thugs taking advantage to perpetuate attacks on public and private property across the state.
---
kindly donate to the work we do using our interim PAYPAL https://www.paypal.me/NewsWireNGR