Police "injured his eyes" and left him blinded, a petitioner at the Delta State Judicial panel, Simon Arigbe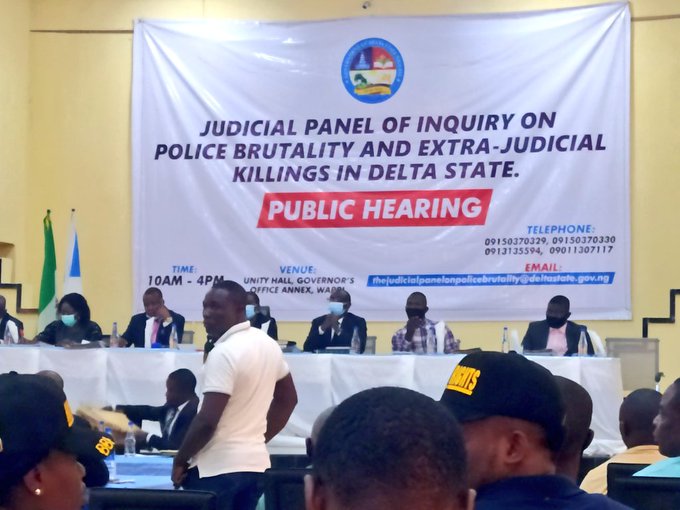 Estimated Reading Time: 1
A petitioner at the Delta State Judicial panel, Simon Arigbe, has on Tuesday lamented the refusal of the Police to pay him a N12million compensation for making him blind amidst other claims of brutality.
The compensation was awarded by a law court in 2010.
The counsel to the victim, Bernard Jamaho told the panel that some police officers in Ovwian, Udu council area of Delta state brutalised his client, who was then a taxi driver and made him lose his eyesight in the process.
"Some policemen who were on duty at Express Junction by Ovwian, accosted him to ask him for some money, which he could not give to them. He said he had given them before and he could not give them another one.
"That led to an altercation, and the altercation led to them beating him up and in the process, they injured his eyes and he got blinded.
Human rights lawyer, Oghenejabor Ikimi (Esq.) took up the case against the police and the court ordered that Arigbe be paid N12 million as compensation. However, the Police have refused to pay the compensation since 10 years ago.
The lawyer added, "human rights lawyer, Ikimi, took the matter up, got a judgement in 2010 and the Police had to go to court again to try to set aside the judgement. The court dismissed the application in 2011.
"Since then, every application to the Police Service Commission, to the Police, to the government to make sure that his money, the N12 million awarded against the Police is paid, have proved abortive. Every effort made has not worked. Even though the Attorney General did not work."
kindly donate to the work we do using our interim PAYPAL https://www.paypal.me/NewsWireNGR