'We are not a substitute for the regular court' – Cross River Judicial Panel of Inquiry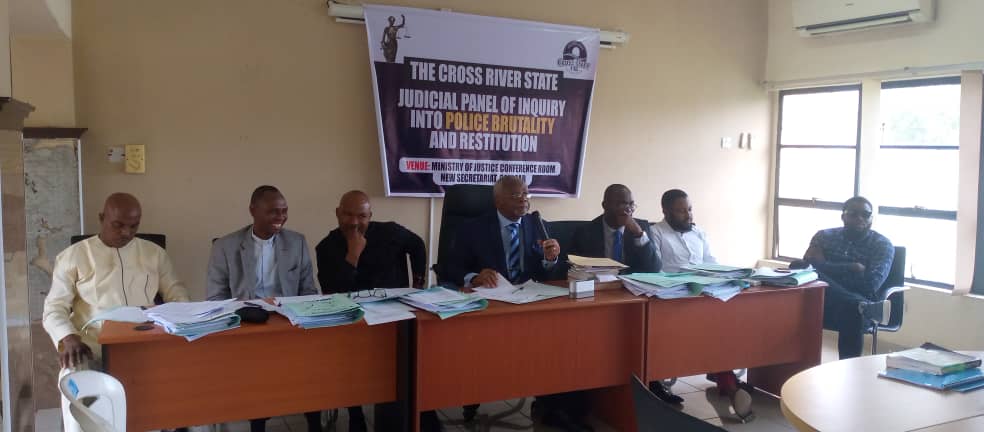 Estimated Reading Time: 1
The Cross River State Panel of Inquiry into Police Brutality and Restitution has today, Thursday, November 19th, 2020 told petitioners that the panel is not acting as substitute for the regular court.
This was revealed by the Chairman of the panel and former Chief Judge of Cross River State, Rtd. Justice Micheal Edem, at the hearing in Calabar, the Cross River State capital.
Speaking, Edem encouraged petitioners who have cases already in court to continue with such litigations while the panel does it part.
"The panel is not a substitute for the regular court, nor does it have alternate jurisdiction to any other court."
Edem further clarified that all though the panel was set up by the Cross River State government, it has it backing from a federal executive council meeting and therefore is a product of law.
This was as the panel struck out the petition of Christopher Effiong and Peter Silas (joined petition) and that of Godwin Agwu, over lack of jurisdiction.
Christopher Effiong and Peter Agwu, former police officers, petition the Inspector General of Police, asking the panel to compel the IGP to adequately compensate them for how they were dismissed from service and for not giving them their due renumeration.
Godwin Agwu on the other hand said he is the sole surviving child of the family that owes the Police Training College in Odukpani and that the police has driven him off his family property, leaving him homeless and "mentally traumatised".
responding, Chairman of the Panel, Rtd. Justice Micheal Edem, held that while he sympathize with the petitioners, their petition are outside the terms of reference of the panel and therefore cannot be entertained.
2 other petitions were heard, with the panel adjourning to Thursday, 26th November, 2020 for continuation of hearing and to allow the police to file it defense.
---
kindly donate to the work we do using our interim PAYPAL https://www.paypal.me/NewsWireNGR