"If President Buhari hadn't exercised restraint and tolerance … " Presidential spokesman Femi Adesina on #EndSARS protest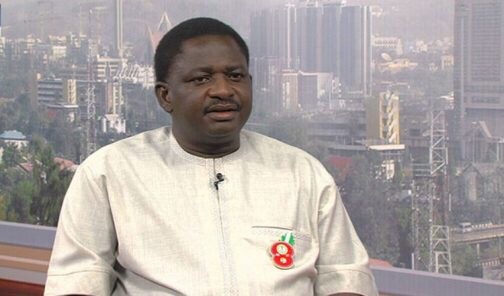 Estimated Reading Time: 2
President Buhari's Spokesperson has claimed that the President acted as a father during the recent EndSARS protests.
In the EndSARS protests, thousands of Nigerian youths marched to demand an end against Police brutality and the SARS unit accused of extrajudicial killings and abuses.
The decentralised social movement against police brutality in Nigeria. The slogan calls for an end to the Special Anti-Robbery Squad (SARS), a controversial unit of the Nigerian Police Force with a long record of human-rights abuses.
Mr Femi Adesina praised, the Mouth piece of the Buhari regime, thanked the President for his prompt intervention during the EndSARS protests, "his acceptance of the protesters' requests and the launch of a youth empowerment scheme".
NewsWireNGR recalls that Scores were killed across the country, government backed thugs attacked unarmed peaceful protesters with Machete and knives in cities like Lagos and Abuja.
On the night of 20 October 2020, at about 6:50 p.m, members of the Nigerian Armed Forces opened fire on peaceful End SARS protesters at the Lekki toll gate in Lagos State, Nigeria.
The Spokesman through a publication titled 'We Have Not Many Fathers' originally published in The Nation Newspaper Nigeria Friday, and republished here by NewsWireNGR – READ.
The Presidential Spokesman argued that, "Many times have I seen the President respond to the EndSARS protest and its fallout, both privately and publicly".
"He responded while launching a youth empowerment scheme on October 12, speaking to the restive youths directly, that their agitation against police brutality was well meaning, and that their voices had been heard". Adesina noted.
"He spoke publicly in a national broadcast again on October 22, after the falcon could no longer hear the falconer, and anarchy had been let loose on the land. Privately, at many in-house meetings, he had spoken, and one of such was at the October 23 parley with all the former living heads of state."
He said that the situation would have descended into anarchy if not for the timely intervention of the President.
"If President Buhari hadn't exercised the restraint and tolerance of a father, at a time that even hitherto respected people instigated the protesters to carry on (and they promptly went underground when anarchy ensued), we would have been talking of something else in the country".He maintained in the 22 paragraph long article.
"The rivers of Nigeria could have turned crimson, and mourning and lamentations would have suffused the land. But we are thankful for the father in President Buhari, patient and enduring, almost to a fault."
"But thank God for fathers, who kept their heads. No wonder it is said that what the elders see sitting down, young people would not see, even if they climbed trees. May God continue to give this country good fathers, who remain calm in turbulence, who keep their heads when others are losing theirs."
kindly donate to the work we do using our interim PAYPAL https://www.paypal.me/NewsWireNGR