Bola Tinubu says #Endsars protesters "who suffered casualty" during Lekki massacre had questions to answer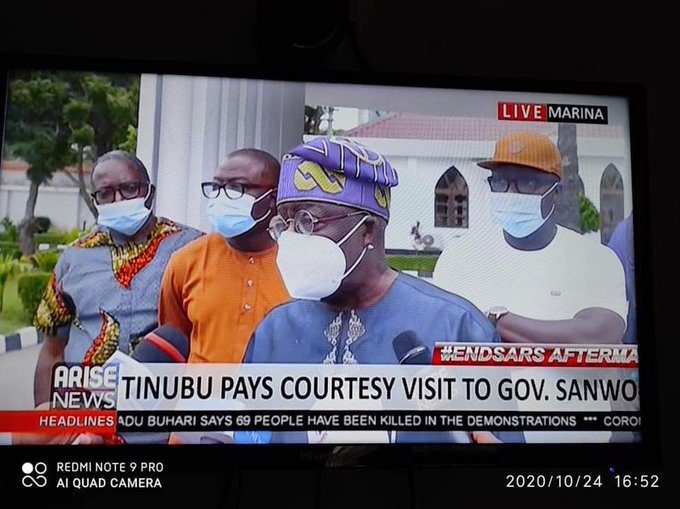 Estimated Reading Time: 1
Bola Ahmed Tinubu, former Governor of Lagos state said protesters who sang to the National Anthem, waved the Nigerian flag and were shot at by Nigerian soldiers should be made to answer to questions.
Tinubu, without calling on the Federal Government to acknowledge the killings, raised questions regarding the character and presence of "those who suffered casualty" over the shootings carried out by Nigerian soldiers at Lekki, Lagos State, on Tuesday.
"Those that had suffered casualties during the gunshot need to answer some questions too," said Mr Tinubu.
The APC National Leader was speaking to newsmen Saturday when he visited the Governor of Lagos State, Babajide Sanwo-Olu continued, "how were they there? How long were they there? What kind of characters were they? Even if we want to help, we must extract information that will help the government to prepare in future or understand when and where to react."
Witnesses say soldiers opened gunfire on unarmed protesters at Lekki toll gate, one of the key #EndSARS protest sites in Lagos, on Tuesday, but the casualty level remains uncertain.
The shooting led to condemnation from the U.S. government, the International Criminal Court, the United Nations, and the European Union, all raising concerns about the use of lethal force against unarmed protesters by the military.
Despite overwhelming evidence, the military has not taken responsibility for the gunfire .
Television Continental, Max FM and The Nation newspapers believed to be owned by Mr Tinubu, were razed by mobs on Wednesday in Lagos. Several police stations, public buses were set ablaze and businesses were looted.
kindly donate to the work we do using our interim PAYPAL https://www.paypal.me/NewsWireNGR