Police arrest Abuja lawyer defending women in a sexual assault case amidst national protest against sexual violence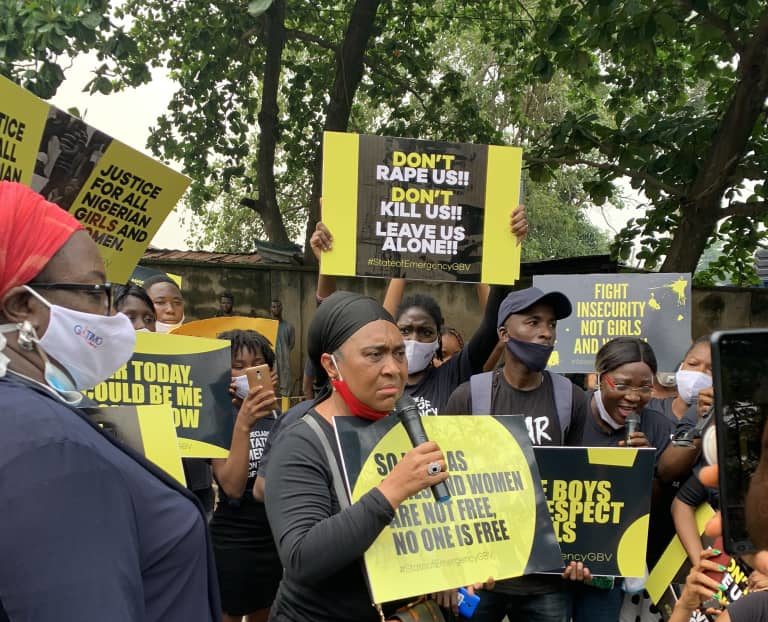 Estimated Reading Time: 3
The Police in the Abuja on Friday, June 5, 2020, arrested a human rights lawyer and activist Martin Obono, who is defending three women in a sexual assault case.
Obono was arrested and taken to the Wuse Zone 3 police station.
According to reports, Obono was arrested for a tweet he posted on twitter alleging that the police was in cahoots with the suspect to turn the case around, leading to the detention of the women in a cell with men.
"Five days ago, my clients reported a rape case. The suspect used Police to turned the case on its head and got the Ladies detained the girls in same cell with men. I was livid. It didn't end there, they asked them to bring a level 14 civil servant, C of O to surety their bail" Obono had tweeted on Tuesday June 2, 2020.
The lawyer's phones were taken from him during the arrest and NewsWireNGR could not get a comment from him.
Obono is a foremost activist against sexual assault on women especially in the Federal Capital Territory.
In April 2019, when a joint task force of the Abuja Environmental Protection Board (AEPB) and the police raided nightclubs and strip clubs, in which dozens of women – and a two-month-old baby – were arrested, accused of prostitution, it was Obono who broke the news on twitter leading to much outrage.
The arrest took place just as protesters gathered at the Police force headquarters in Abuja and Lagos today, June 5, 2020, demanding for a systemic change on Sexual and Gender-based Violence (SGBV) in Nigeria.
The protest which was organised by TechHerNG, Girl Child Africa, Connected Development, Enough is Enough Nigeria, Stand To End Rape, SilverChipFox, Yiaga Africa, Dorothy Njemanze Foundation, and Education as a Vaccine is one of the multi-pronged approach its organisers are deploying to compel authorities in Nigeria to force systemic action against Sexual and Gender-based Violence (SGBV) in Nigeria.
The protests were scheduled to start at 9am with the protesters presenting letters to the leadership of the Nigeria Police Force calling for prompt investigation and conclusion of rape and all SGBV cases.
A statement released by the organisers explained that along will the protests, they would be submitting a Memo to the Nigerian Governors' Forum and the Federal Executive Council calling for an effective and sustained institutional response to SGBV in Nigeria.
Their key demands listed in the statement are:
Domestication of the Violence Against Persons Prohibition (VAPP) Act and Child Rights Act in all states of the federation;
Establishment of Sexual Assault Referral Centers (SARC) in every state, backed with a coordinated, sustainably-funded support system.
Criminalisation and prompt state-led prosecution of SGBV cases within, regardless of requests or interference by the victim's family or interested parties.
Implementation of functional Family Support Units and Force Gender Units at the state level that are well equipped to address SGBV cases.
The imposition of public disciplinary measures against officials of the NPF and state prosecutors that mishandle cases of SGBV.
Some of the placards the protesters carried read: "DON'T RAPE US, DON'T KILL US, LEAVE US ALONE", "SO LONG AS GIRLS AND WOMEN ARE NOT FREE, NO ONE IS FREE", "END ALL FORMS OF VIOLENCE AGAINST WOMEN AND GIRLS", "WE NEVER SAID YES TO RAPE" "A TWO YEAR OLD HAS NOTHING TO DO WITH SEX" among many others.
According to a report by the Nigeria Demographic and Health Survey (NDHS), nearly 3 in 10 Nigerian women have experienced physical violence by age 15 (NDHS 2013).
A major factor that experts have blamed for the rapid increase in sexual assault and violence against women is the lack of domestication of the Violence Against Persons (Prohibition) Act which was passed into law in 2015. They have also identified the slow nature of prosecution of sexual assault and violence against women cases as a key contributor to the increase in cases.
After five years of the passage of the bill, only 12 states have adopted it so far.
See some of the tweets from the protests in Abuja and Lagos below.
The Nigerian social media space has been outraged over the last week as news of the rape and murder of a 22-year-old student Vera Uwaila Omosuwa, was followed by several others including the rape and murder of Barakat Bello, a teenager, in Ibadan, Oyo State.