#JUSTICE4UWA: Senators want stiffer penalties for rapists and more protection for the girl child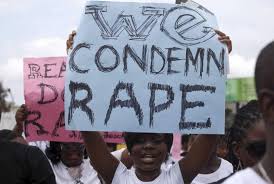 Estimated Reading Time: 2
Federal senators on Tuesday, June 2, 2020, called for stronger penalties for rapists beyond 'a few wars of jail time'.
During plenary, Sen Sandy Onor from Cross River State, moves the motion for the senate to condemn the recent surge in rape cases especially the rape and murder of a University of Benin student, Uwa Omozuwa.
Senators Biodun Olijimi, Akon Etim Eyakenyi, Betty Apiafi and Uche Ekwunife supported the motion, calling for more protection for the girl child and tougher sanctions for rapists.
Senator Olujimi noted that any injures to the girl child injures the nation. "Rape is real and we must not allow it to go on." she said.
Akon Etim observed that the issue of rape has been discussed several times on the floor of the senate but rued that arrests and breif jail terms for the culprits aren't doing enough to deter offenders.
"It is not just arresting the culprits and taking them to the police station, the court and then sentenced to a few years of jail time that is enough. A severe penalty should be given to such culprits." she noted.
Senator Betty Apiafi also condemned the violation that has become a daily occurrence in Nigeria. She pointed out the rape case of a 12 year old girl in Jigawa State by 11 men over a period, and called for not just stiffer penalty but stronger advocacy against rape.
Uche Ekwunife said rape is no longer new in Nigeria but the rising cases are a serious cause for concern.
The senate, after hearing the motion resolved to task the Federal Government to ramp up campaigns against rape; urge the state houses of assembly to "amend the code to make rape punishable."
The rape and murder of Uwa in a church in Benin City, Edo state sparked outrage across Nigeria.
Police on Tuesday announced that a suspect has been arrested in connection to her rape and murder.
According to this report published in 2014, which was adopted by UNICEF and conducted by the National Population Commission in Nigeria, one in four women experienced sexual violence in childhood, with approximately 70% reporting more than one incident. Only 5% sought help, and only 3.5% received any services.