Yobe health ministry's director dies at COVID-19 isolation centre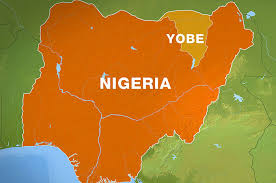 Estimated Reading Time: 1
Alhaji Muazu Brahji, a Director, Human Resources with Yobe State Ministry of Health, has died at the state specialist hospital isolation centre in Damaturu.
A brother to the deceased, Yau Ubaliyo Abubakar, who confirmed the development to newsmen on Wednesday, said that late Brahji was taken to the isolation facility on Tuesday.
On whether the deceased was confirmed to be positive for COVID-19 before he died, Abubakar disclosed that his sample was taken and currently awaiting the result.
Yobe is among the states without a testing centre for COVID-19; as such, most of the samples collected are taken to either Abuja or Borno for testing.
NewsWireNGR reported Wednesday reported that no less than 155 persons have died in Gashua and Potiskum areas of Yobe State over the last six days after exhibiting symptoms related with Coronavirus.
According to the reports, "The deaths, which have caused panic among residents of the state, is similar to the situation experienced in Kano recently where people in large numbers died consistently for several days to what had now been confirmed by the Presidential Task Force on COVID-19 to be the virus".
Between April 30 and May 5, 98 people died in Potiskum.
"Cemeteries are now the busiest places in these towns.
"In Gashua town, at least 57 have died. Those dying are mostly elders, yet the state Committee on COVID-19 is sleeping in Damaturu as if nothing is happening," another source familiar with the situation, said.
To continue telling under-reported stories, we need your support for the work we do, donate to https://paystack.com/pay
Also, kindly donate to the work we do using this interim PAYPAL ID https://www.paypal.me/NewsWireNGR.