Former President Goodluck Jonathan "Essentially Shared" N150 Billion Two Weeks – Yemi Osinbajo Says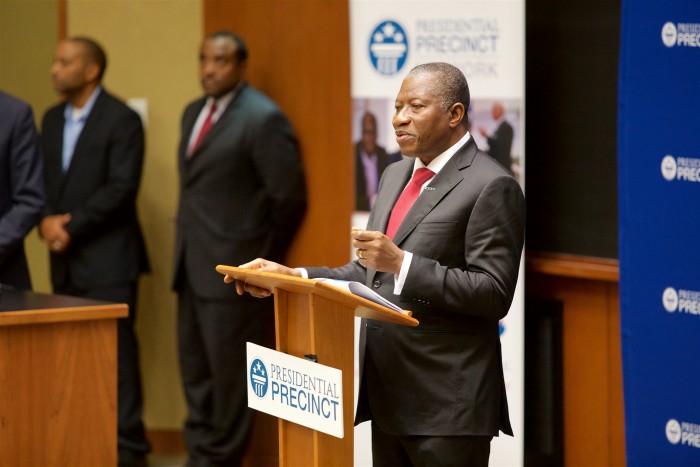 Vice-President Yemi Osinbajo has alleged that the government of former President Goodluck Jonathan "essentially shared" N150 billion two weeks to the 2015 polls.
He said while the current administration with less revenue, has increased capital funding by 400 percent in power, works and housing, defence, transportation, agricultural sectors, the Jonathan administration with surplus funds, spent N14 billion on agriculture in 2014, N15 billion on transportation, and a total of N153 billion on infrastructure in three years.
Osinbajo said while the government of President Muhammadu Buhari has not completely dealt with corruption, it has demonstrated enough political will to reverse the trend.
He spoke on Monday during the 7th presidential quarterly business forum for private sector stakeholders which held at the old banquet hall of the presidential villa, Abuja.
The forum provides a platform for private sector/business leaders and groups to engage with top government officials such as ministers, advisers and heads of agencies.
"In one single transaction, a few weeks to the 2015 elections, sums of N100billion and $295million were just frittered away by a few," he said.
"Nobody should talk about the economy when you have this kind of huge leakages and huge corruption. Corruption that completely makes nonsense of even what you are allocating to capital projects.
"We saw from the presentation of the minister of finance that N14 billion was spent on agriculture in 2014, transportation N15 billion, so the total spent on infrastructure in those three years were N153 billion and in two weeks before the elections, N150 billion was essentially shared.
"So, if your total infrastructure spending is N150 billion and you can share N153 billion, that is completely incredible. That sort of thing doesn't happen anywhere else in the world. And when we are talking about the economy, we must simply understand that that is the problem."
The vice-president added that most Nigerians, for some reasons, do not discuss the role of corruption in crippling the nation's economy.
He said though corruption is not easy to stamp out, if the country sticks to the policy of ensuring that there is no impunity as far as public finance is concerned and people are held to account, the economy will "soar in no time".
"I must ask again what is wrong with the Nigerian economy and what do we need to do to correct the flaws. There are several issues many of which have already been articulated but I want to talk about what I think is the biggest problem which for some reason we hardly talk about when discussing our national economy," he said.
"This is grand corruption in the public finance space. Sometimes the way we talk about the Nigerian economy it does appear as if it is the economy of say Norway or somewhere where all things are equal. Even when we refer to what has taken place in our economy, we almost sound as if this is in every sense a very normal business environment, a very normal public finance environment but that is not the case.
"I do not think that any consideration about our economy development can be properly and honestly done without fully analysing corruption, especially grand corruption in the public finance space. You see that despite record high levels of oil prices, very little was invested in infrastructure and a record level of leakages were recorded in the past few years.
"This is the fundamental issue in our economy. Corruption affects everything. It affects even judgement as to what sort of infrastructure to put in place or whether infrastructure will ever be complete. It is so fundamental that we can't even think of our economy without thinking of what to do about it.
"Sometimes when we talk about our economy, we talk about the fact that we have relied on single commodity and that is one of the reasons why we are where we are. Yes, that's quite true, but the fact is that proceeds from that single commodity was regularly hijacked consistently by a few. That is really the problem. If we had spent the proceeds from that single commodity the way we ought to, we won't be where we are today."