Saatah Nubari: Fulani Herdsmen And A Lenient Government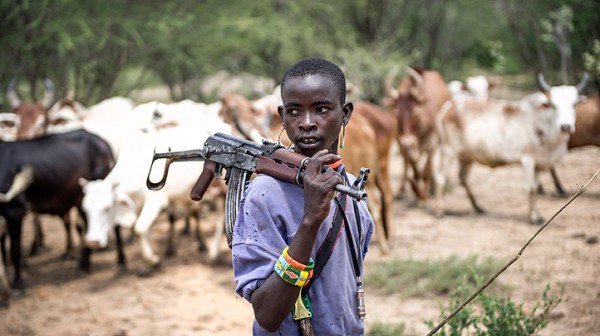 Estimated Reading Time: <1
I have been unfortunate enough to see the gruesomeness of the Fulani Herdsmen attack on farming communities in the North Central states and Adamawa. Unfortunate being that, I follow people from that part of the country on my social media platforms, and I get to see the very gory pictures, right before the newspapers or online news sites pick it up and reduce them to mere numbers, without the corresponding pictures. Unfortunate is not the word I would have ordinarily used to describe it, but when you get to see pictures of humans, butchered, with no sense of dignity or respect, it messes with your psyche, and that is very unfortunate.
Between January 2nd and today, over one hundred Nigerians have been killed by Fulani Herdsmen. In 2015, they were ranked the 4th deadliest terror group in the world by the Global Terrorism Index and up until today, despite the numerous people killed, the President Buhari government has failed to label them a terrorist group and take the right actions. In Benue state for example, the spokesperson of the Miyetti Allah Cattle Breeders Association of Nigeria, granted a press conference to the BBC and in that press conference, he gave the reason for the attacks on Benue farmers as retaliation for the stealing of 1000 cows by members of the communities they attacked. That was a bold statement. A very bold statement that can only be made when you are certain that there will be no repercussion for your actions.
Something else I noticed with the Fulani Herdsmen attacks, is how quick government has been, not to address the issue in all sincerity, but to provide excuses for the herdsmen. There are four cases in point here. One and two are from Lauretta Onochie, the Personal Assistant to President Buhari on Social Media and Audu Ogbeh, the Minister for Agriculture. Both seem to be of the opinion that the Fulani Herdsmen have been marginalized, thereby giving tacit support and excuses for their murderous rampage, instead of bringing those involved to book. The second case in point is that of Femi Adesina, the Special Adviser to President Buhari on Media and Publicity, who instead of giving Nigerians update on how swift the government is moving to put an end to the crises and punish those found responsible, ended up telling us that Buhari should not be blamed for the attacks since the Fulani Herdsmen attacks predates his administration. Absurd right? Well, it gets worse. He want as far as quoting "statistics" to show how deadly the Fulani Herdsmen were under Jonathan, which made it sound like the Buhari government was waiting for the scores to even out before doing something. Case number four is the Inspector General of Police, who informed Nigerians that the attacks were nothing more than a "communal clash". For once, I wondered if a communal clash was a more acceptable means of killing Nigerians. But he has apologized, after two mobile policemen had their throats slit by these same Fulani Herdsmen when they attacked a police station in Benue. Now, the word "unfortunate" appears to have been the right word to use.
There have been attacks in Taraba and Nasarawa by Fulani Herdsmen in the past 48 hours, and the death toll has been in double digits, with 55 being the death toll in Nasarawa and at least 11 for Taraba according to news reports. This brings me to the President and Commander in Chief of the Armed Forces, Buhari. According to reports, in October 2000, Buhari led a team of Fulani Herdsmen to the Office of the Oyo State Governor, to complain about an attack on Fulani Herdsmen in Saki. There had been a clash between the Herdsmen and farmers in the community, and as a private citizen, Buhari went to Oyo State same day to make his displeasure known. He was said to have asked that compensations be paid to the Fulani's. 15 years later and the same Buhari became President and chief protector of Nigerians, both Fulani's and farmers, and till this very day, his utterances and actions towards the killings going on in Benue and other states by Fulani Herdsmen leaves more to be expected. It is on record. I repeat, it is on record that between May 29 2015 when Buhari came into power and today, there have been at least 100 attacks by Fulani Herdsmen, and the casualty figure, as at today, is very close to 5000. Yet, in all of these, there is not one person, or rather, the Miyetti Allah Cattle Breeders Association of Nigeria which have time and time again, claimed responsibility for these attacks have not been arrested and made to face the law as related to the crimes they have committed. I am not sure any "compensation" has been paid to the farmers either. In 2016 alone, at least 1042 persons were killed in Benue State by Fulani Herdsmen, and in November of 2017, Fulani Herdsmen fired shots at Nigerian Air-force jets without the air-force jets retaliating. I can say for a fact that if that same air-force jet were to be stoned—not even shot at—in the Niger Delta or somewhere in the South East, villages would have been emptied by the military. This does not in any way make a case for the military's high handedness, but instead points to the different methods applied to quelling dissent when it concerns the different ethnic groups that make up Nigeria.
President Buhari, despite the Fulani Herdsmen attacks going on in Benue, decided to visit Abia State on Tuesday for a campaign rally. Fortunately for him, he changed his mind at the very last minute after the backlash from Nigerians became too much to bear. Same Abia State which happens to be the home of Nnmadi Kanu, the leader of the IPOB who has not been seen in public since the Nigerian Army left his residence in September 2017. The IPOB was immediately designated a terrorist organization by the Federal Government, and many of her members arrested after the government became uncomfortable with its activities. It is telling, that, not one soul was lost prior to the Nigerian Army launching an "Operation Python Dance" in the South East region to counter the IPOB. The lives that were lost only came about from the Nigerian Army. This same government, that was so quick to tag IPOB a terrorist organization, and launching a military campaign in an entire Geo-political, zone killing hundreds of its unarmed citizens extra judicially, has been very quiet and lenient with a much more heavily armed and deadly Fulani Herdsmen.
Truth is that everything that has a beginning has an end, and there is only how far you can push a people before they capitulate or retaliate. At this point in time, the burden, unfortunately, rests on the people of Benue and other states affected by the Fulani Herdsmen attacks, to make sure their history, if any is written, in years to come, is not one of ethnic cleansing and genocide. May the odds be in their favour.
Saatah Nubari is on Twitter @Saatah
_________________________________________
Disclaimer
It is the policy of NewsWireNGR not to endorse or oppose any opinion expressed by a User or Content provided by a User, Contributor, or other independent party. Opinion pieces and contributions are the opinions of the writers only and do not represent the opinions of NewsWireNGR.